CHRISTMASSY THINGS TO DO IN REYKJAVIK AND ICELAND
2016-12-19
Don't you just love the Christmas time? When the snow has started to fall and the sparkling lights and decorations lit up the streets in the city.
Are you one of those crazy persons that are dreaming of travelling to Iceland? If so, then you should make that dream come true. And even consider spending the Christmas in Iceland? Cool huh?
Here are just a couple of suggestions for you to do during Christmas time in Iceland.
We wish you a happy and warm hostelling time.
Traditional Old Icelandic Christmas come to life
Have you ever wondered how Christmas was celebrated in the old days in Iceland? Well at the Árbær Open Air Museum you can immerse yourself in the sights, smells and sounds of a traditional Icelandic Christmas. You will get the opportunity to experience the preparation of traditional Icelandic Christmas food and crafts and to meet the traditional Icelandic Santa Clauses (Yule Lads). You can as well buy some traditional Christmas sweets in the General Store, and enjoy hot chocolate at the Museum's coffee shop.
Further information here.
The Hunt for the Christmas Creatures
It is a fun Icelandic game for the whole family, starting on 4th December. Thirteen Christmas Creatures have taken up residence in and around various places in Reykjavík, including the city center. The game, which is set-up as a treasure hunt, invites participants to hunt for the Christmas Creatures and answer a few simple Creature related questions.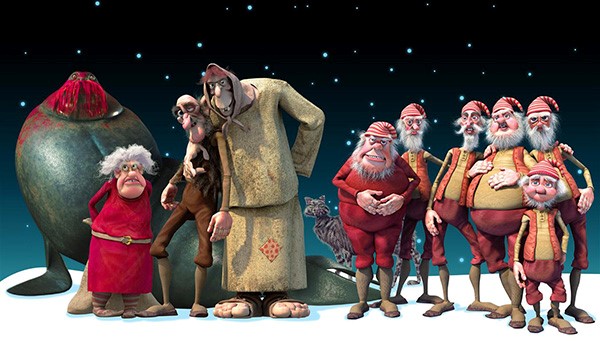 Ice skating in Reykjavík?
Oh yes, you can do that. The square of Ingólfstorg has been lit up with Christmassy lights and you can skate like a champion in the lovely city center.
Make Icelandic friends in the thermal pools
Icelander have adapted to the long and dark winter nights and they seek energy from the geothermal pools. You will get the chance to meet the locals at the swimming pools in Iceland. The pools are warm and cosy and this is the chance to get to know the Icelanders. Are they really Vikings?
The Children's' Christmas Workshop
Iceland is a family friendly place and visiting the Christmas Workshop in Reykjavík City Hall is something all children will enjoy. Families can sit down and create their own Christmas decorations or explore the Christmas Cave. Opening times are from December 5th until January 6th.
Holiday spirit at Loft Hostel
Get involved in the cosy holiday spirit at Loft Hostel in downtown Reykjavik. If you are interested in decorating ginger bread, listen to life music, join a game night or yoga where you can just stretched during the holiday season. And it is free entry to all events!
Hunt for the Northern Lights
If you are lucky and the weather is in your favour, you are in a good chance of seeing the Northern lights. You can find couple of tours to explore the northern Light on this page. All tours that we hightly reccommend.
Golden Circle – A must thing to do
The Golden Circle consist of visit to the Thingvellir National Park, Geysir Geothermal Area and Gullfoss Waterfall. These are all natural wonders. This tours can take more than 8 hours in wintertime and you can book it here.
Christmas markets in Iceland
Wrap yourself up warm and walk through the Christmas markets in Iceland. There are several Christmas markets one can visit:
Yule Town at Ingólfstorg
Yule Town in Reykjavík consists of small and beautiful Christmas houses placed on Ingólfstorg in mid-December. There are wide selection of gifts, Christmas decorations, delicious food and all kinds of entertainment. Yule Town will be open December 11 – 14 and December 18 – 23.
Jólakrás Street Food Christmas Market
The street food market "Jólakrás" will be at Fógetagarðurinn, December 20-21 with opening hours between 13:00 and 19:00.  It is a collaboration of Reykjavík's finest restaurateurs coming together, creating their version of fine dining street food.
The Christmas Village – Hafnarfjörður
It is very Christmassy to visit the Christmas Village in the town in the lava. The market has to offers live entertainment every day at opening hours and one can buy beautiful handcrafted items and homemade Icelandic delicacies. The market is open every weekend in December.
Christmas market at Elliðaárvatn
By the lake Elliðaárvatn is open every weekend in December. More information on their Facebook page
Other local Christmas markets
In most of the towns and villages all around Iceland the locals have Christmas markets. It is worth to explore this options if you happen to be travelling outside Reykjavik during this time.
Be a member of the YHA and reserve a youth hostel in Reykjavik right away!