HONG KONG YOUTH HOSTELS ASSOCIATION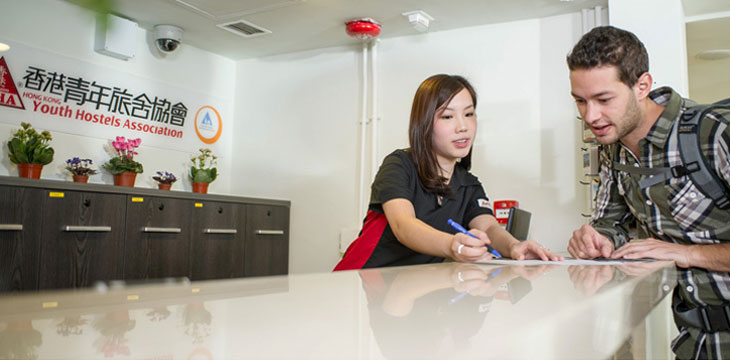 Founded in 1973 as a registered non-profit and non-government-funded non-profit organisation, Hong Kong Youth Hostels Association (HKYHA) is one of the 90 national associations affiliated with Hostelling International (HI), the worldwide umbrella organisation that provides members with information covering over 4,000 youth hostels and other travel benefits. HKYHA operates 7 youth hostels across Hong Kong and currently has an individual membership of more than 30,000 people and group membership of over 600.
MISSION
To provide safe, simple, and affordable hostelling services to young people and travellers from all over the world. Our hostels also serve as educational platforms that allow travellers to broaden their horizons, to learn about different cultures, and to be in touch with nature and heritage conservation.
We Believe:
Travel does not only mean fun and entertainment, but also means breaking through limits and exploring the world.
Travel is not exclusive for the rich. Everyone can enjoy the satisfaction which travel brings about.
Youth hostels are established to provide safe and simple accommodation for travel lovers and young people of limited means.
Backpacking or self-guided tours have become a new mode of travel for the young generation. Youth hostels is thus an integral part of Hong Kong's tourism industry today.
Youth Hostels Around The World:
Welcome travellers of any gender, age*, nationality and religion.
Youth Hostels are not hotels. Youth hostels promote simple and eco-friendly tourism and are different from typical business operations in terms of location, facilities and services.
Youth hostels are equipped with at least one common area (e.g. self-catering kitchen, common room, self-service laundry) to let hostellers from around the world to mingle and meet with others.
Hostellers are not "customers" but those who are identified with the youth hostel's philosophy. Therefore, every hosteller has the responsibility to keep the hostel clean and put any facilities back in their places after use.
​(* A letter of guarantee is required from travellers bringing children aged under 5 to ensure that the child will not cause disturbance to other hostellers.)
Click here to download Chairman's Report 2014/15
MILESTONE
1973
HKYHA volunteer group established
1975
Launch of Sze Lok Yuen Youth Hostel
1975
Launch of Pak Sha O Youth Hostel
1978
Launch of YHA Ngong Ping SG Davis Youth Hostel
1978
Launch of Bradbury Hall Youth Hostel
1981
Launch of Jockey Club Mt. Davis Youth Hostel
1985
Launch of renovated Pak Sha O Youth Hostel
1986
Pak Sha O Youth Hostel won HKIA Award for Architectural Excellence
1988
Launch of renovated Sze Lok Yuen Youth Hostel
1989
Launch of renovated YHA Ngong Ping SG Davis Youth Hostel
1993
Launch of Bradbury Jockey Club Youth Hostel
1997
Launch of renovated YHA Ngong Ping SG Davis Youth Hostel
1998
Launch of renovated Sze Lok Yuen Youth Hostel
1998
Launch of renovated Bradbury Hall Youth Hostel
2005
Launch of renovated Bradbury Jockey Club Youth Hostel
2007
Launch of annual fundraising event, Ngong Ping Charity Walk
2012
Launch of renovated Jockey Club Mt. Davis Youth Hostel
2013
YHA Mei Ho House Youth Hostel opened
2014
YHA Mei Ho House Youth Hostel awarded '2014 Dual Gold Award for National Classic Habitation on Planning and Architectural Design' by the Architectural Society of China
2014
Launch of Jockey Club Mei Ho House Hong Kong Spirit Learning Programme
2015
YHA Mei Ho House Youth Hostel won "Honorable Mention" of UNESCO Asia-Pacific Heritage Award for Cultural Heritage Conservation 2015
ORGANISATION
List of current Executive Committee members
The Honourable Mrs Carrie Lam Cheng Yuet-ngor, GBM, GBS
The Chief Executive
Hong Kong Special Administrative Region
People's Republic of China
CHAIRMAN, EXECUTIVE COMMITTEE
HON. TREASURER & SECRETARY
James A.CAMPBELL
Thomas C. S. CHAN, IDS
Jeanne K. Y. CHENG
Paxson N. S. FUNG
Dr. Desmond C. K. HUI
Dr. Wai Tin HUI
Ir. Wing Chow KWOK
Andy K. M. Leung
Imma K. S. LING
John E. STRICKLAND, GBS, JP
Michael Y. K. WONG
Michael Y. K. WONG 2005-2014
Thomas C. S. CHAN 1995-2005
Gabrielle C. KEEP 1993-1995
Douglas A. ROOTS 1988-1993
Graham D. RICHARDSON 1987-1988
John L. G. MCLEAN 1978-1987
Gerald L. STRICKLAND 1973-1978