PLAN YOUR FRENCH HOLIDAY: 5 BEST CYCLING ROUTES
2016-07-25
"Shrink your carbon footprint!" Do you love your bicycle and the freedom it gives you to just pedal off for miles of adventures? Come to France and spin your wheels around our countryside, taking in our fabulous heritage.
Green tracks, hidden lanes, vineyards, walnut tree orchards, cheese makers, canal towpaths, disused railway tracks … France has so many routes where any cyclist can go. Here is our list of the TOP 5 routes – including a few tips before you start.
1. The Atlantic−Mediterranean two-seas canal (500 miles)

Entre-deux-Mers by bike, a remarkable and well-named 500-mile route between the beaches of the Atlantic and the Mediterranean: a green route on which you never pass a motorised vehicle, punctuated by canal locks and shaded by plane trees. Explore it one section at a time if you want to be leisurely, or do it all in one trip for the stronger among us. Wend your way along the Gironde estuary, the Garonne Canal and the Canal du Midi, a registered UNESCO World Heritage site.Stop over in HI youth hostels: HI Carcassonne Youth Hostel in the heart of the medieval city, and HI Sète Youth Hostel with a view out over the Mediterranean.
2. Vélodyssée – the Cyclist's Odyssey (750 miles)

As you follow the Vélodyssée you have the Atlantic Ocean always at your side, the wind, the spindrift, the cliffs, the beaches, the forests of pine trees to awaken the senses. Some 750 miles long, and 80% of it without a car, the route connects Roscoff to the Basque coastline via the shores of Britany. This is the longest cycle route in France, marked from end to end.
Stop over in HI youth hostels: HI Pontivy Youth Hostel, HI Nantes Youth Hostel, HI La Rochelle Youth Hostel and why not go on to HI Biarritz Youth Hostel
3. The Loire Valley by bike (500 miles)



The Loire à vélo: don't miss this cycling opportunity! Cycle the UNESCO world heritage Loire Valley: 500 miles of cycle ways and peaceful little roads running alongside the river. The Loire is justly famed for its châteaux and its nature, but it is also celebrated for its fine dining: plates of cheeses (Crottin de Chavignol, Sainte-Maur-de-Touraine), prestige wines* (Sancerre, Chinon, Muscadet and more), mouth-watering fruit desserts (don't say no to a tarte Tatin – a Sologne speciality – or a plum pâté from Angers).
Stay in an HI youth hostel: HI Nantes Youth Hostel.
4. Véloscénie – scenery to cycle by (275 miles)

From Notre Dame in Paris, to Mont-Saint-Michel, via Normandy, the 275 miles of Véloscénie will take you through some of the most important places in French history, heritage sites (including five UNESCO world heritage sites) and the green countryside of Normandy. This cycle route takes in green pathways, marked lanes and forest tracks.
For stop-overs in HI youth hostels: HI Paris Le d'Artagnan Youth Hostel, HI Paris Yves-Robert Youth Hostel, HI Cancale Youth Hostel.
5. Lake Annecy (25 miles)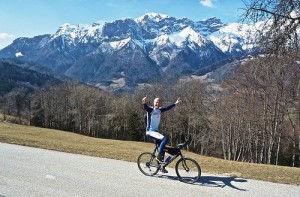 This is a great classic – a circuit of Lake Annecy by bicycle, about 25 miles long. You'll see the clear waters of Lac d'Annecy amid Alpine heights and mountains. You decide which way to go around – and there's a 300-metre altitude difference! Whichever direction you go in, you can take the opportunity of a break on one of the lake's beaches. In our humble opinion the old town of Annecy makes a particularly special starting and finishing point!
Stop over in an HI youth hostel: HI Annecy Youth Hostel.
Choose your route and come and enjoy the freedom of the roads of France. Oh, and bon voyage!
Special recommendations for travelling Europe!
Planning your next trip to Europe? You may consider becoming a YHA member, which allows you to easily book hostels across 90 countries/regions with exclusive offers! Click here to learn more.
Search for more YHA hostels: https://affiliates.hihostels.com/search/hostels?linkid=980074