TREE CLIMBING EXPERIENCE ACTIVITIES


2D1N FUNDAY MONKEY CLIMB TOUR
Bradbury Hall (Chek Keng, Sai Kung) is now cooperating with NeXperiential, organising a 2D1N Funday Monkey Climb Tour! With the safety equipment setting up on the trees and under the guide of qualified coach, children or adults can learn and enjoy tree climbing! Challenge yourself by climbing to the top of the tree to enjoy the panorama sea view and take a rest at our hostel for a weekend getaway!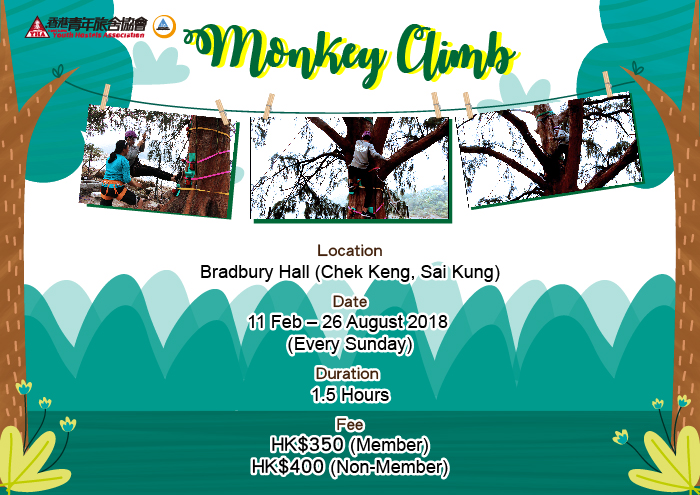 2D1N Funday Monkey Climb Tour
| | |
| --- | --- |
| Date: | 11 Feb 2018 – 26 Aug 2018 (Every Sunday) |
| Duration: | 1.5 hours/ session |
| Monkey Climb Session: | Session 1:  10:00 – 11:30 |
| (Choose 1 out of 3) | Session 2:  12:30 – 14:00 |
|   | Session 3:  15:30 – 17:00 |
| Age Limit: | 8 years old or above |
| Quota: |  Max. 10 people per session |
| Fee per person: | HK$350 (member price), HK$400 (non-member price) |
Package Privileges:
1 session of Monkey Climb activity
A stay of one night of dorm bed at Bradbury Hall (check-in day can be Saturday/Sunday)
Remarks:
Other in-house guests are welcome to join the Monkey Climb activity (Member price: $260, Non-member price: $310)
Activity insurance fee is not included in the package. Activity insurance fee for each participant is at HK$50
Special Arrangements under Inclement Weather Conditions:
Thunderstorm Warning
Please arrive on time and the coach will decide if the activity will be cancel according to the weather.
Red or Black Rainstorm Signal
Typhoon Signal 1 or below
Typhoon Signal 3 or above
Activity will be cancelled and rescheduled.
Registration:
Fill in the form by ticking dorm bed at Bradbury Hall, and email the form to [email protected] with the subject "2D1N Funday Monkey Climb Tour" 14 days before the activities. (Enquiry: 852 2788 1638)
Bradbury Hall (Chek Keng, Sai Kung) www.yha.org.hk/ck
Click to learn more about spots near the hostel!
---
Terms & Conditions:
Booking date from now on till 12 August 2018. Staying period from 10 February 2018 to 26 August 2018 (every Saturday or Sunday).
Price is shown as member price and this offer is only applicable to YHA members. Each member can bring a maximum of three non-members to enjoy the offer. Guests can apply for YHA membership on site.
Minimum 5 participants in each activity. Participants will receive cancelation notice 7 days before the activity if there are not enough participants in one activity.
Limited quota. First come first served.
Bookings must be made 14 days in advance, by email to

[email protected]

with the subject "2D1N Funday Monkey Climb Tour".
Except for cases of adverse weather conditions stated in above, no alteration shall be entertained.
HKYHA has the sole and final decision in case of disputes.