FALL ESCAPE: HK'S BEST SUNSET/SUNRISE WITH GOLDEN SILVER GRASS FIELD ALL AT ONCE!


SOMEWHERE OTHER THAN THE SUNSET PEAK

2015-11-26
In recent years, golden silver grasses, which mark the beginning of the Autumn season, has become excessively popular among Hongkongers, and you may probably have heard of the "Sunset Peak" , one of the most popular photo spots to capture this stunning scenery.  Despite its popularity, as HK's third highest mountain with the height of 869m, it is never an easy challenge. While its name has already been widespread, you would very likely see faces of strangers at the background of your "romantic pictures"
Source: Internet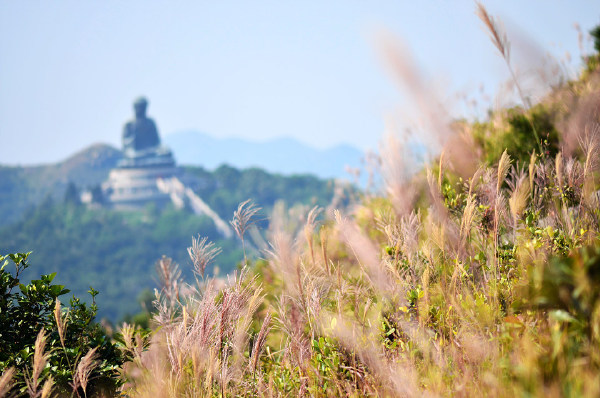 Source: Internet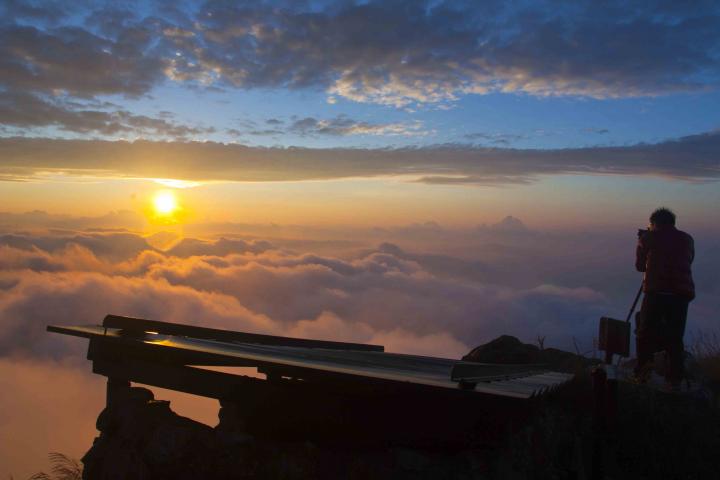 Somewhere other than the Sunset Peak
So this time, we're recommending you another great spot to seize the golden silver grass view – Nei Lak Shan. Situated also on Lantau Island, it is considered a relatively easy route, which takes only around 2 hours from Ngong Ping Village. Traffic is apparently less busy there, and that means, photos look greater.
Apart from the silver grass, Nei Lak Shan is also famous for its superb sunset. The golden "egg yolk", together with the takeoff and landing of airplanes, creates an unbeatable scenery with a perfect blend of the city and nature.
Here from its peak, you will clearly see its well-known neighbor, the Lantau Peak. With its height reaching 934 m, it is the second highest mountain in Hong Kong, making it an ideal sunset view point. Frequent visitors of Lantau may also notice the wooden arch at the junction of the 3rd and 4th section of the Lantau path that is carved "Lantau Peak Sunset".
Standing at the Lantau peak, you'll be able to overlook the panoramic view of Tung Chung; while at times of higher visibility, as you gaze towards the east, you'll enjoy the drizzling lights from thousands of families of HK Island and Kowloon while towards the west you'll even catch the lovely views of Macau.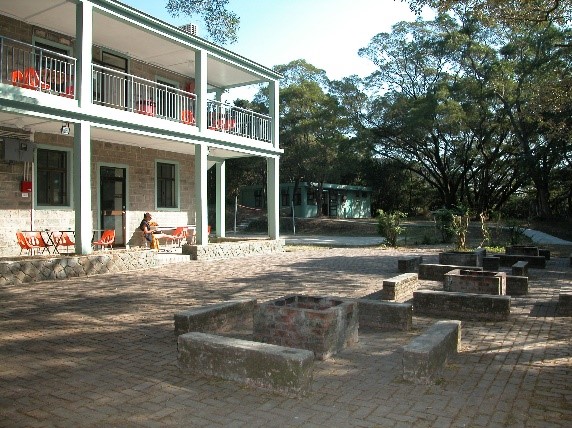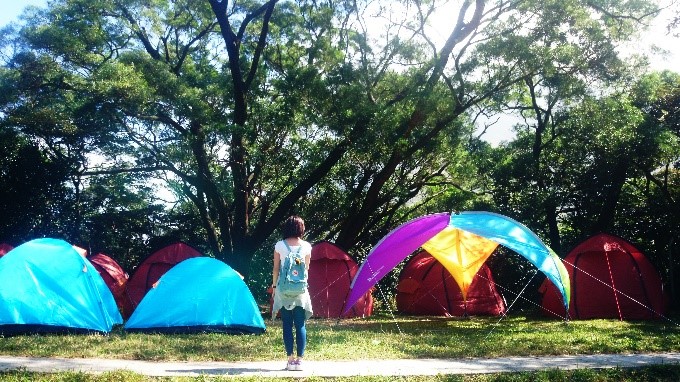 An ideal start point to the Peak – YHA Ngong Ping SG Davis Youth Hostel 
As experienced hikers may know, the best time to set off for the magical sunrise moment at Lantau Peak is during midnight. Therefore, it would be a good idea to spend the evening at a warm and comfy place – here's an option: Situated right at the foot of the two peaks, YHA Ngong Ping SG Davis Youth Hostel has long been popular among trekkers and backpackers. It is just adjacent to famous tourist spots like Wisdom Path, the Big Buddha and Po Lin Monastery. Guests can easily arrive at the hostel by taking bus No.23 or Ngong Ping 360 cable car from Tung Chung to Ngong Ping Village, followed by a 5-10 minute walk. Basic facilities including self-catering kitchen and canteen are provided.
In the middle of the autumn season, we're delighted to introduce you to a special experience, the "Hassle-free camping"*. Just grab a few clothes, food and we'll have tent equipment ready and set up for you – why not take this chance to enjoy a simple and relaxing weekend getaway?
*Hassle-free camping 2.0 is also available now!
3 autumn hiking options – all up to you!
Option (1) – Nei Lak Shan: Golden silver grass field with stunning sunset
As bus and cable car services are suspended at night, guests are recommended to settle down at the hostel before hiking up Nei Lak Shan where you can take time to enjoy the golden silver grass as well as the stunning sunset view. As the sun sets, simply descend along the Nei Lak Shan hiking trail back to Ngong Ping area/the hostel for other plans for the night.
Option (2) – Lantau Peak: unbeatable sunrise at the No.1 peak 
For those who wish to experience the city's most sensational sunrise, we recommend you to arrive at the hostel in the afternoon to settle down first. Then have a relaxing stroll around the neighboring Ngong Ping Village and Wisdom Path. After that, go back to the hostel for a power recharge before beginning the adventure up Lantau Peak, which takes around two hours.
Option (3) – Nei Lak Shan x Lantau Peak – all at once!
If you are born to be a challenger, our suggestion is this: In the day time, go for the silver grass/sunset at Nei Lak Shan, then return to the hostel for a short retreat. When the night arrives, slowly hike up the Lantau Peak and seize the magical moment. Sunrise and sunset, all in 2 days 1 night.
Pack your backpacks and go into nature, right in this autumn!