SQULY & FRIENDS THEMED ROOM


YHA JOCKEY CLUB MT. DAVIS YOUTH HOSTEL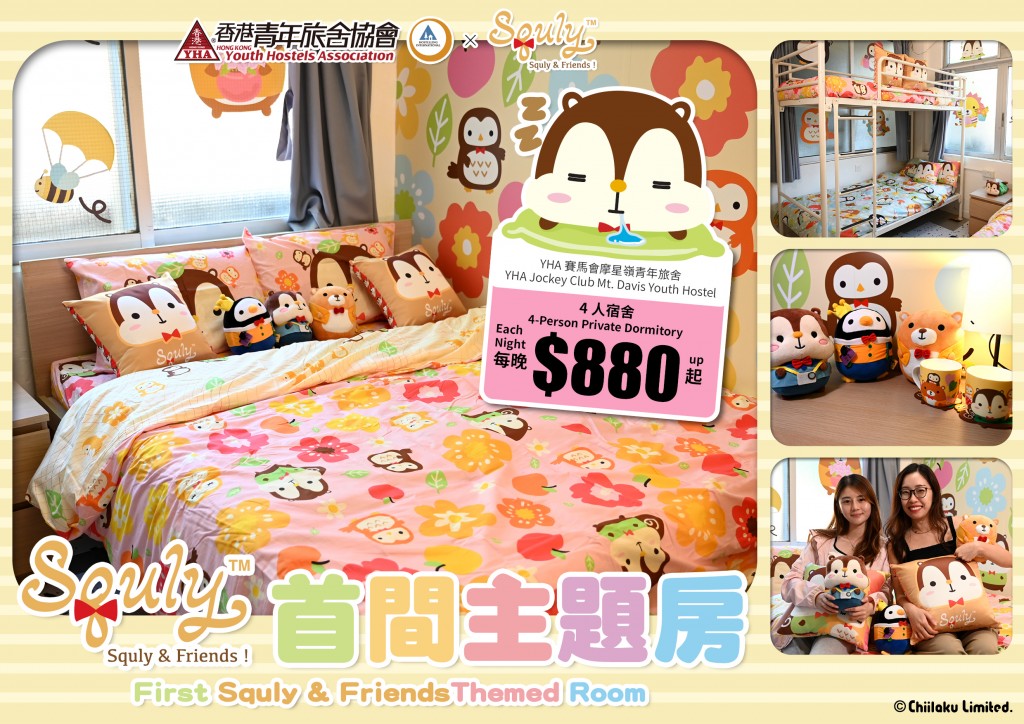 Hong Kong Youth Hostels Association and Squly & Friends are proud to present the first-ever Squly & Friends themed room. From the walls to the decorations, cushion, pillowcase or carpets, you'll find the face of Squly and his friends everywhere! Grab your camera and begin your journey!
First 100 guests who stay in our special themed room will receive a free sticker !
Terms & Condition:
The check-in time is from 4pm to 8pm; while the check-out time is from 9am to 11am the next day.
The Themed Room is capable for a maximum of 4 persons only. For any cases of violation, the hostel will immediately terminate the stay of the guests without any refund. If the hostel suffer any losses or receive any fines from authorized authority as a result, Hong Kong Youth Hostels Association (HKYHA) and the hostel shall reserve the right to claim compensation from the guests.
No eating or drinking is allowed inside the room or dormitory.
No smoking is allowed in any areas of the hostel.
Different decorations and facilities are equipped in the room, guests must follow the guideline and should not move or pull any of them without authorization to prevent accidents or damages. The props and facilities must be used inside each room only and guests should not take them out from the room. Please contact the hostel staff to assist if necessary.
You are liable for any loss or damage incurred to our room, decorations or any properties. We reserve the right to charge you HK$500 for the cost of damaged items.
Themed room set up including pillow cases, plush toys, cushion, carpet, tissue box, mug and coaster at applicable room types is for accommodation purpose only.
The above photos for reference only and subject to on-site arrangement.
Guests must provide at least one valid membership card upon check-in. If you are not a member of YHA, you can apply for the membership at hostel's reception upon arrival.
Guests are required to read and follow this "Point to Note" and "Hostel Rules & Guidelines", otherwise the hostel has the right to refuse or terminate the stay of the guests immediately.
HKYHA has the right to amend any details of this "Point to Note" and "Hostel Rules & Guidelines" without prior notice.
HKYHA has the sole and final decision in case of any disputes.