【NEW MEMBERSHIP BENEFIT】ZURICH TRAVEL+ INSURANCE PLAN 25% OFF
Do you want to broaden your horizons through travelling?
Our partner Zurich has launched a Zurich Travel+ Insurance Plan which provides an array of caring benefits that suit your needs. The plan covers various dangerous amateur sports as well as an additional Outbound Travel Alert Benefit.
Exclusive discount for YHA members: 25%off 
Details and online enrollment: https://goo.gl/LnTKFR
Be a member now & embark on your care-free journey!
---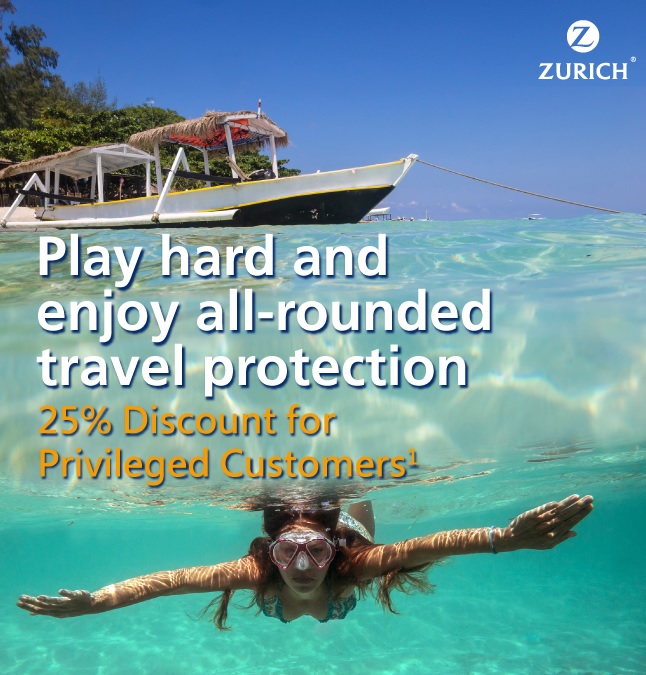 Zurich Travel+ Insurance Plan
Caring Benefits:
Protection for Dangerous Amateur Sports including scuba diving, water skiing, rafting, sailing, parachuting, rock climbing, bungee jumping, horse riding, etc
Mobile Phone Benefit covers accidental loss or damage of mobile phones²
Additional Outbound Travel Alert Benefit³
Free Coverage for Accompanying children: if both parents enroll in the family plan, all accompanying children aged 17 or below will be insured free of charge
Easier Claims Management via Mobile app
Enquiry or enrollment hotline: 2903 9383
Remarks:
This offer is only applicable to privileged customers and their family member(s) including his/her spouse, child(ren), parent(s) and parent(s) in-law who enroll in the relevant insurance plan successfully. It is not transferable, cannot be redeemed for cash or exchanged for other products. The offer is only applicable to privileged customers who enroll in the relevant plan successfully through the above-stated enquiry hotline or enrollment link.
This benefit is only applicable to the Gold Plan.
The cover period of the Outbound Travel Alert Benefit is extended to Jun 30, 2017.
Zurich Insurance Company Ltd (Zurich) reserves the right to amend terms and conditions of the policy upon renewal, including but not limited to the premium, coverage and exclusions.
Zurich can at all times amend or terminate part/all of the terms and conditions of this offer without prior notice. In case of dispute, Zurich's final decision shall prevail.
Zurich (being the underwriter of the Travel+ insurance Plan) is fully responsible for all the coverage and reimbursement.
This promotional material is for reference only and does not form part of the insurance contract. For full terms and conditions and exclusions, please refer to the policy document which shall prevail in case of inconsistency. Zurich reserves the right of final approval and decision.