(NOV) STRESS-FREE PACKAGE (YOGA CLASS + ACCOMMODATION)


YHA JOCKEY CLUB MT. DAVIS YOUTH HOSTEL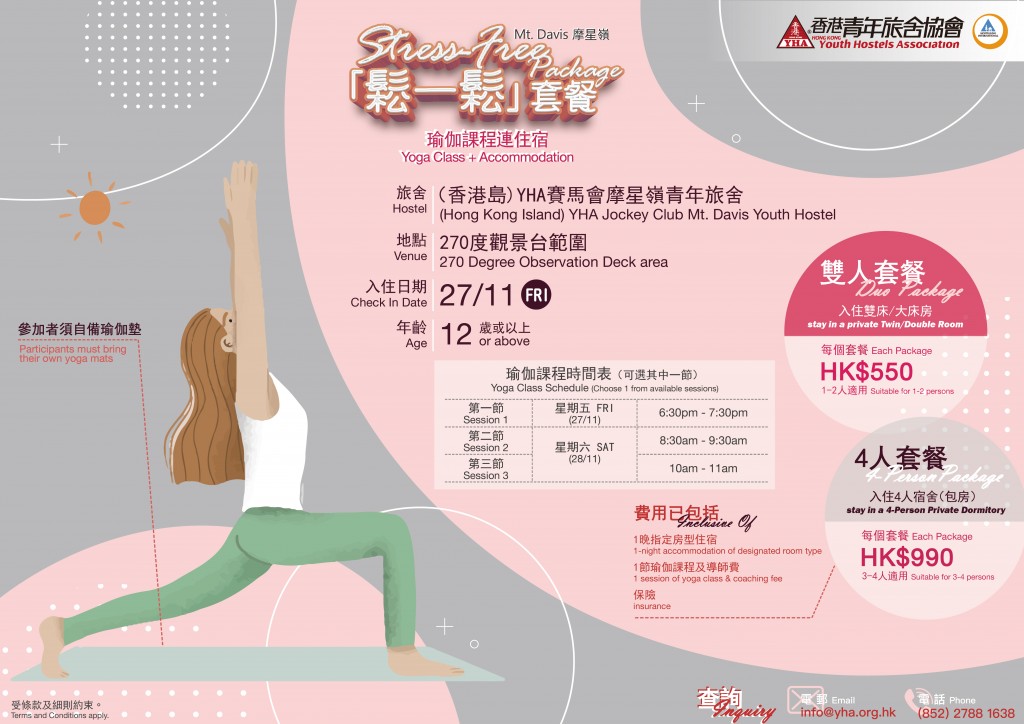 What is the best way to relieve stress and anxiety? Let's join the upcoming Stress-Free Yoga Activity that going to be held at YHA Jockey Club Mt. Davis Youth Hostel with your friends, besties and family!
Mt. Davis Stress-Free Package includes 1-night accommodation of designated room type and 1 session of yoga class which last for 1 hour. The yoga class will be held at the 270 Degree Observation Deck area inside the hostel. Under the guidance of professional teacher, you will complete a series of yoga exercises in front of Victoria Harbour. Your body will definitely be refreshed and reactivated after the class!
Different timeslot is available for the yoga class, yet quota is limited, first-come first-served.
Yoga Class Schedule (Choose 1 from available sessions)
Session 1
Friday (27 Nov 2020)
6:30pm – 7:30pm
Session 2
Saturday (28 Nov 2020)
8:30am – 9:30am
Session 3
Saturday (28 Nov 2020)
10am – 11am
Besides, all participants should bring their own yoga mat due to the concern about personal hygiene issue.
Duo and 4-Person Stress-Free Package (Yoga Class + Accommodation) is just HK$550 and HK$990 respectively. Register now by clicking below!