THIS DECEMBER – ONE OF THE BEST TIMES TO CATCH METEOR SHOWER IN 2018


MEET OUR ASTROPHILE!
The once a year Geminid Meteor Shower will be streaking through the sky in this December! Do not miss the opportunity for preparing surprise for your partner as well as capturing the stunning night sky! Former committee member of Astronomy Club of HKUSU Calvin Ma will be sharing stargazing tips to us at Bradbury Hall (Chek Keng, Sai Kung)!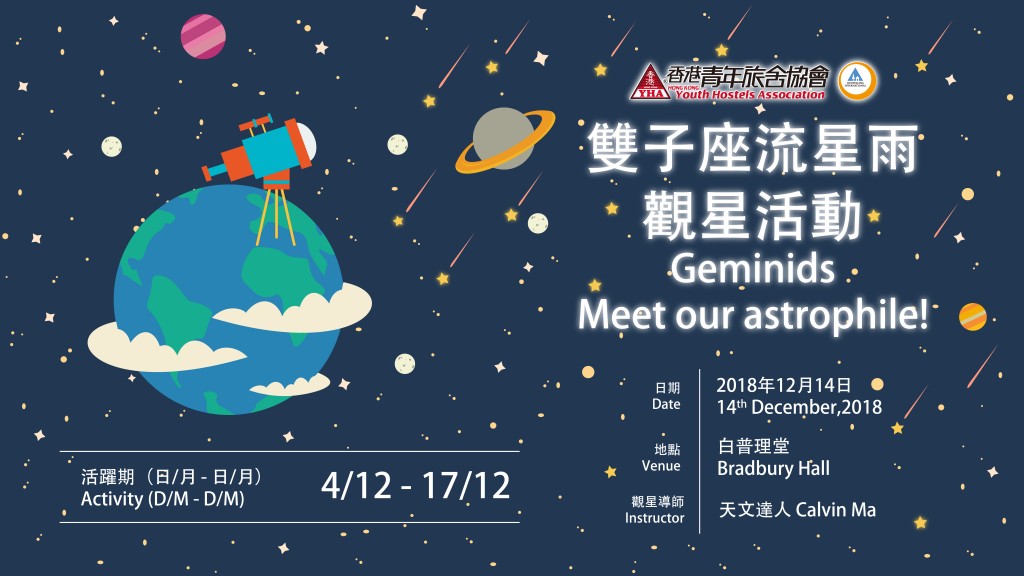 The Geminid meteor shower is one of the most spectacular meteor showers of the year and it is active during the period from early Dec to mid Dec. The peak is expected to occur at about 8:30 pm on Dec 14th, with a Zenith Hourly Rate (ZHR) of 120.
The radiant of this shower will rise above the horizon in the northeast at about 7:30 pm and reach the zenith at about 2:30 am during the peak. As the first quarter Moon will come on that day, the Moon will set at around 11:30 pm. Don't wait til next year to catch The Geminids' active period!
Visit Bradbury Hall (Chek Keng, Sai Kung) and our astrophile will be giving you the best guide of stargazing!
Meet our astrophile!
Date: 14 December 2018 (Friday)
Registration Deadline: 11 December 2018 (Tuesday)
Venue: YHA Hostel – Bradbury Hall (Chek Keng, Sai Kung)
Target: Staying guests of Bradbury Hall (Chek Keng, Sai Kung) on 14 Dec night (refer to the link of above Venue for more accommodation details)
Observation Period: 8:00pm – 10:30pm
Instructor: Calvin Ma | Former committee member of Astronomy Club, HKUSU
Price:  HKD$198 (excluding accommodation fee)  **(See Special T&C Clause 4)
Price Inclusive of:
A barbecue dinner
Star atlas and tiny torch provided
Sharing Content: Beginners guide on stargazing, Winter Triangle, Astrophotography, etc
Limited quota! First come, first served!
Registration:
For more details, please contact Reservation and Customer Service Center at [email protected] or (852) 2788 1638.
Learn More on Geminid Meteor Shower:
https://www.lcsd.gov.hk/CE/Museum/Space/en_US/web/spm/starshine/astroevent/meteorshower/geminid.html
Special Terms and Conditions:
Registration date: from now till 11 Dec 2018.
Price is shown as member price and this offer is only applicable to YHA members. Each member can bring a maximum of three non-members to enjoy the offer. Guests can apply for YHA membership on site.
Registration and Payment must be made 3 working days in advance.
HKYHA reserves the right to cancel the activity 3 days prior to the activity commences due to insufficient enrollment. Fees will be refunded.
HKYHA has the right to amend the details of activities without prior notice.
Except for cases of adverse weather conditions stated in "Terms and Conditions", no alteration shall be entertained.
The Hong Kong Youth Hostels Association (HKYHA) has the sole and final decision in case of disputes.
============================================
For our news update, please follow our Facebook pages below: