SAI KUNG FISH CULTURE ZONE


(SAI KUNG) YHA BRADBURY HALL CHEK KENG YOUTH HOSTEL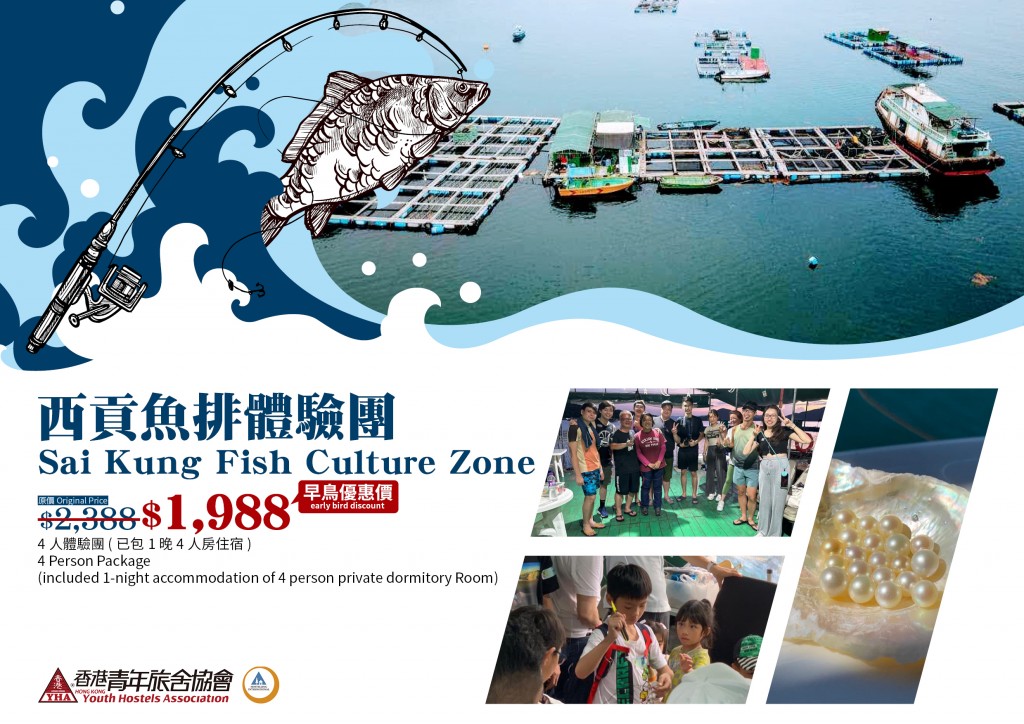 Spend your night in YHA Bradbury Hall Chek Keng Youth Hostel where you can join our Sai Kung Fish Culture Zone to enjoy recreational fishing activities and unwind by the sea.
Besides the recreational facilities, you will also find a marine fish culture zones where different marine fish species are raised in cages suspended by floating rafts. You can learn how fish are raised and caught, and practise your fishing skills in the fishing area. If you are interested in pearls, this pearl guided tours is definitely not to be missed. This activity will introduce you the history of fisheries culture and a better understanding of pearl cultivation.
Additionally, you can purchase seafood* or you can choose to buy the seafood and cook yourself while enjoying the sea breeze and reminiscing the joyous moments in the hostel.
| | |
| --- | --- |
| Location: | (Sai Kung) YHA Bradbury Hall Chek Keng Youth Hostel |
| Time: | 2:00pm – 6:00pm |
| Age: | 3 years old or above |
| Accommodation: | 1 night stay in 4-Person Private Dormitory Room |
| No. of Participants: | Minimum of 4 people (at least 1 participant should be YHA Individual Member) |
| Fee (early bird discount) : | HK$1,988 (HK$2,388),  included 1 night stay in 4-person private dormitory room and Sai Kung Fish Culture Zone |
| Registration Deadline: | 2 weeks prior to the activity date |
For inquiry, please email to [email protected] or call (852) 2788 1638.
*Seafood will be charged separately, price of seafood will be determined by fish raft
Co-organizer: 西貢深灣養殖魚排
Terms and condition:
Limited quota available, seats will be provided on a first-come first-served basis.
Please ensure to submit your registration 14 days before the commandment of the activity.
Participant must settle the payment at registration and keep the confirmation letter/receipt until end of activity, except for special situations listed on "Terms & Conditions", no alteration, cancellation or transfer quota will be entertained, and all paid fee is not refundable.
Each package include a maximum of 4 persons to participate in the activity once, 1 night's accommodation in a designated 4-person private dormitory room at YHA Bradbury Hall Chek Keng Youth Hostel, fish rafting experience fee, round-trip boat fare for fishing raft and insurance for designated number of participants.
All participants must provide their full names in Chinese or English (identical to Hong Kong Identity Card/Passport) for insurance purpose.
The accommodation of designated room type is bounded by these Terms and Conditions for Room Reservation.
Participants can check-in early at 12nn on day of activity.
Participant(s) of Sai Kung Fish Culture Zone Package must provide at least one valid membership card upon check-in. If you are not a member of YHA or HI, you can apply for the membership at hostel's reception upon arrival.
Participants must be aged 3 or above. Participants aged between 3 and 10 must join the activity under the guidance of an adult aged 18 or above. Hong Kong Youth Hostels Association (HKYHA) reserve the right to request proof of age from participant.
The above photos are for reference only and subject to on-site arrangement.
Fishing on the fish raft must be conducted within the authorized area using handline or fishing rods.
When fishing on the fishing raft, participant should refrain from conducting activities that will affect the surrounding environments or mariculture operations in any way. These include, but not limited to, littering, polluting the water, conducting other water sports, excessive noise making, use of net, trap or chum bait and conducting other activities outside the authorized area.
This activity will be held within designated area, participants must follow the instructions of the staff to prevent injury. HKYHA and the staff of fish raft have no responsibility and liability for any physical discomfort or injury.
All participants or their parents/guardians should ensure their health is in good condition and not suffering from any illness that renders them unfit for this activity. HKYHA and the fish raft shall not be liable for any injury or death happening in this activity.
HKYHA may conduct video and photo shooting during the activity. HKYHA reserves the right to use all the visual material(s) for any promotion purpose.
If the staff of fish raft considers you are acting in an unacceptable manner, including but not limited to causing nuisance to other participants, inflicting bodily harm to others, using any language or actions likely to cause offence or annoyance to others, or behaving in an indecent manner, HKYHA has the right to ask you to dismiss you from the activity in which case you will not be entitled to any refund or alternative arrangement.
Participant with food allergies should decide whether they are suitable to purchase or eat seafood. HKYHA is not liable for any allergic reactions occurred.
Participant should wear sensible clothing. HKYHA is not liable for any damage to clothing that occurs during the activity.
In case of any damage of the tools or facilities of the fish raft due to negligence or intentional misconduct, compensation should be made.
HKYHA will not be liable for the following situation:
Any loss, accidental damage or injury arising during the activity or resulting from the actions of anyone attending the activity.
Any loss or damage to any personal belongings.
Any loss which is indirect or consequential.
Participant should arrive at the activity on time. Tardiness of more than 15 minutes, regardless of reasoning, will have their activity cancelled. You will not be able to join the activity, refund or arrange other arrangements.
HKYHA will contact participants and share more information of the activity before the activity date:
Participants or their parents/guardians must read and sign the Health Declaration on the event date. For those who do not complete the Declaration, they will not be allowed to participate in the activity, all paid fee will not be refunded.
Participants must read the activity itinerary thoroughly.
Participants and their parents/guardians who registered for this activity, signify that you have read, understood and agreed to be bound by and strictly follow these Terms and Conditions. These Terms and Conditions are a legally binding agreement between yourself and HKYHA.
HKYHA and the staff of fish raft reserve the right to reject or refuse entry to participants if participants fails to follow these Terms and Conditions.
HKYHA has the right to amend the details of activities without prior notice.
HKYHA has the sole and final decision in case of any disputes.
Adverse weather arrangement:
If Hong Kong Observatory issue or has announced a Thunderstorm Warning, Amber Rainstorm Warning Signal, Typhoon Signal No.1 or adverse weather condition before activity starts, the activity will be held on scheduled unless the participants receive updates from HKYHA.
If Hong Kong Observatory has announced that Red/Black Rainstorm Warning Signal, Strong Wind Signal No.3 or above on or after 10am on event date, activity will be cancelled. Participants can contact Customer Service Center at 852 27881638 to reschedule the activity within 7 days of the activity date. Room reservation can be changed once only, for details please refer to "Point to Note" of Room Reservation.
If the typhoon signal or rainstorm warning is lowered or cancelled before 10:00am, the activity will be held as scheduled unless the participants receive updates from HKYHA.
The staff of fish raft reserve the right to cancel the activity immediately if the weather becomes unstable during the activity, all paid fee will not be refunded.
Please refer to "Point to Note" of Room Reservation for details about the adverse weather arrangement of hostel reservation.