YHA MEI HO HOUSE YOUTH HOSTEL OPEN DAY 2019


CLASSIC REUNION! RED-WHITE-BLUE IS STATIONED IN MEI HO HOUSE!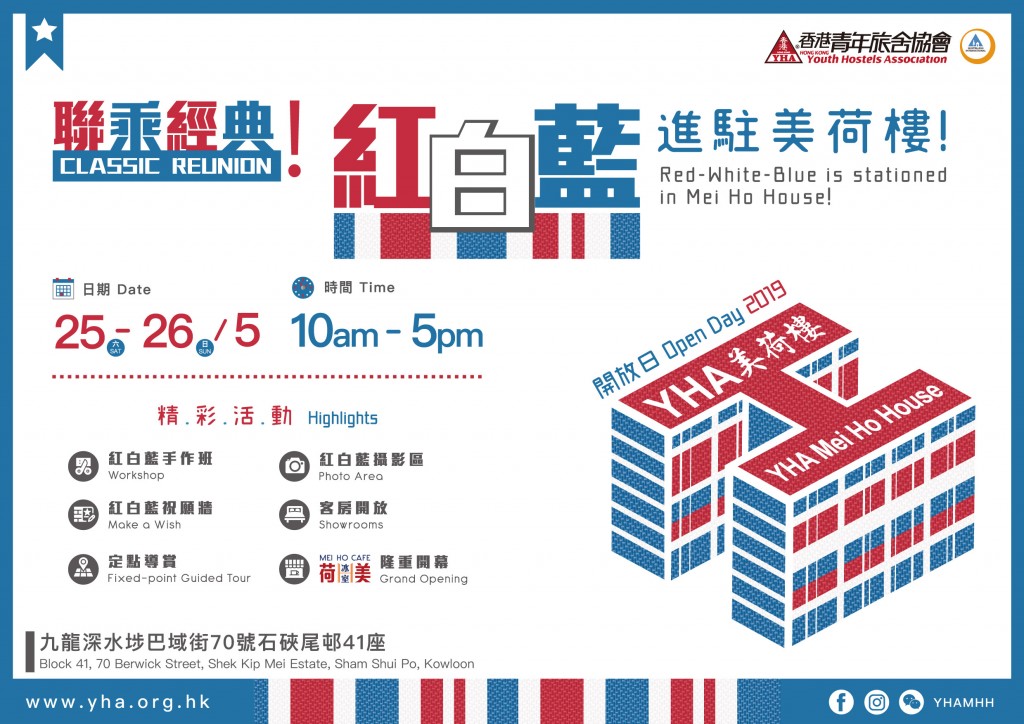 Classic Reunion! Red-White-Blue is stationed in Mei Ho House!
"Red-White-Blue" is always known as part of local culture of old Hong Kong, representing the Hong Kong spirit of "Never Give Up". Last year, Hong Kong Tourism Board transformed Sham Shui Po with "Red-White-Blue" vinyl pattern to promote the unique local characteristics of the district. As one of the most valuable historical architecture in Sham Shui Po, Mei Ho House also witnessed the persistence of last generation in Hong Kong. Thus, this year we decided to have a crossover between Mei Ho House and Red-White-Blue during YHA Mei Ho House Youth Hostel Open Day to continue the local spirit!
Open Day Details
Date: 25 & 26 May, 2019 (Sat & Sun)
Time: 10am – 5pm
Address: Block 41, 70 Berwick Street, Shek Kip Mei Estate, Sham Shui Po, Kowloon
Highlights: Red-White-Blue Experience Zones, Exclusive Red-White-Blue Tent Display, Showrooms, Fixed-point Guided Tour, Mei Ho Cafe Grand Opening, etc.
Special Red-White-Blue Zones
Photo Area.Make a Wish.Workshop All Available
During the Open Day, there will be different areas showing Red-White-Blue elements. If you love to take photos, you must visit the Photo Area containing Red-White-Blue decoration. Next to the Photo Area is Make a Wish area, visitors can leave their wishes or blessing here to cheer themselves or others up!
If you like DIY, you must join the Workshop, you are going to design & make your own "Red-White-Blue necklace"! Workshop Pass will be distributed in designated timeslots. Don't miss the chance if you are interested!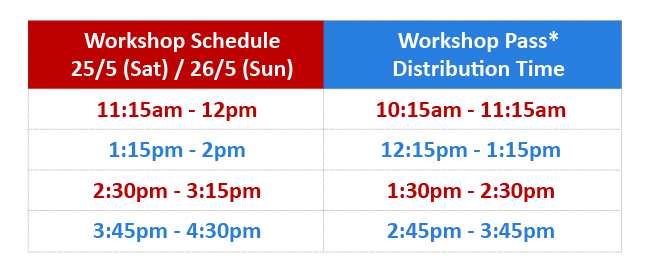 *Each pass allows max. 2 persons to participate and 1 set of material will be given. Limited quota, first-come first-served. Participants must follow the Regulations & Guidelines of Workshop.
Apart from the above, there will be other Red-White-Blue photo shooting spots as well, including our Exclusive Red-White-Blue Tent Display. Furthermore, Mei Ho Cafe will have its grand opening on the first day of Open Day; and it will provide special Red-White-Blue dishes.
Fixed-point Guided Tour Understand the History of Mei Ho House
During Open Day, there will be several fixed-point guided tours in Cantonese, for visitors to learn about the history & architectural features of Mei Ho House, as well as local lives from 1950s to 1970s. The tour is free for charge. Besides, Heritage of Mei Ho House will open as usual during the Open Day.


Each session lasts for around 15 min. Please register at reception. Max. 20 participants per session. Limited quota, first-come first-served.
Transformation of H-shaped Resettlement Block to Youth Hostel
Visitors are free to visit the rooms of YHA Mei Ho House Youth Hostel during Open Day, all of them were reconstructed from the old flats. The showrooms include double room, triple room and 8-bed dormitory.
Collect Stamps to Redeem Limited Edition Souvenirs
Apart from the activities, visitors can also collect designated stamps in Mei Ho House to redeem limited edition souvenirs, including Red-White-Blue Tattoo Sticker & Red-White-Blue Pin Set and Mei Ho Cafe 10% Off Coupon. First-come first-served, while stock lasts.
Moreover, you may enjoy exclusive YHA membership and hostel offers in our YHA Membership & Information Booth. If you sign up instantly, you will be entitled for the limited welcome gift(s) and enjoy accommodation, transportation and travel discounts in over 90 countries around the world!
How to get to YHA Mei Ho House Youth Hostel?
MTR
Take MTR to Exit B2 of Sham Shui Po station and take an 8-minute walk. Please click here for the route map.
Take MTR to Exit A of Shek Kip Mei station and take a 9-minute walk. Please click here for the route map.