YHA SUMMER MUSIC FESTIVAL


SPEAKING OF LOCAL PLAYGROUNDS BACK IN 1970S-80S, WHAT IS IT THAT POPS UP IN YOUR MIND? MERRY GO ROUND? WOODEN RIDING CAR? TWO-STOREY SLIDE? DESPITE BEING LOADED WITH MANY HONGKONGER CHILDHOOD MEMORIES, THESE RECREATION FACILITIES SEEM TO BE DISAPPEARING OFF OUR PLAYGROUNDS NOWADAYS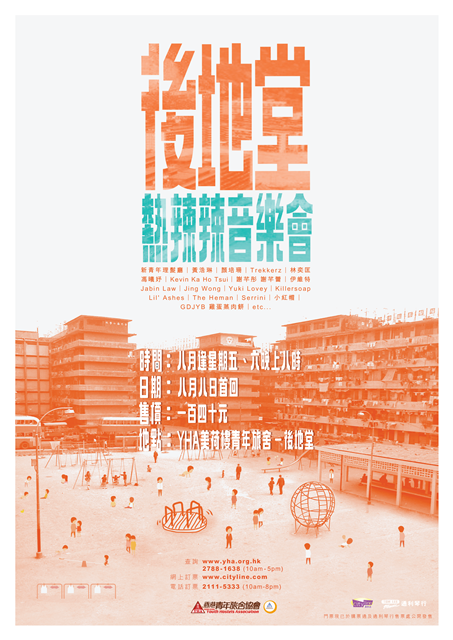 Speaking of local playgrounds back in 1970s-80s, what is it that pops up in your mind? "Merry go round? Wooden riding car? Two-storey slide? Despite being loaded with many Hongkonger's childhood memories, these recreation facilities seem to be disappearing off our playgrounds nowadays……
But tell you what, in the coming august, the good old days of our playground space will be BACK! These 1970s-80s playground facilities will be reappearing in the back courtyard in the first H-shaped resettlement block – "Mei Ho House". You can enjoy concerts featuring local fresh young bands of different styles and witness how the  old meets the new! Well, there's simply no reason to resist this awesome music show!
YHA Mei Ho House Youth Hostel cordially invites you to this first large-scale cultural event "YHA Summer Music Festival", aiming to introduce Mei Ho House to more young people and to provide an interactive platform for hostellers to get to know about local music and culture.
Details of YHA Summer Music Festival:
| | | |
| --- | --- | --- |
| Show Date |    Performer | Time |
| 8/8/2014   (Friday) |  Newyouthbarbershop、The Heman |  20:00-21:30 |
| 9/8/2014   (Saturday) |  Killersoap、Jing Wong、Jabin Law |  20:00-21:30 |
| 16/8/2014  (Saturday) |  Lil' Ashes、Lillian Wong、Shandy Gan、  Trekkerz |  20:00-21:30 |
| 22/8/2014  (Friday) |  Serrini、Chintung Tse、ChinLui Tse、Yuki  Lovey |  20:00-21:30 |
| 23/8/2014  (Saturday) |  Silhungmo、Prune Deer |  20:00-21:30 |
| 29/8/2014  (Friday) |  Phil Lam、Fiona Fung、Kevin Kaho Tsui |  20:00-21:30 |
| 30/8/2014  (Saturday) |  GDJYB、EKEE、ni.ne.mo |  20:00-21:30 |
Venue: Back courtyard (outdoor area), YHA Mei Ho House Youth Hostel, Block 41, Shek Kip Mei Estate, Sham Shui Po, Kowloon
Ticket price: $140 Per show . Free seating on the floor
Tickets are now available at Cityline and the website,please click HERE for details or Tom Lee Music outlets (maximum 10 tickets per purchase )
Booking hotline: 2111 5333 (10a.m. – 8p.m.)
Enquiry: 2788 1638 (10a.m. – 5p.m.)
Facebook:https://www.facebook.com/events/1487120084862541/
Act now. Come to YHA Mei Ho House Youth Hostel to enjoy the amazing summer!
Terms and conditions
One person per ticket regardless of age.
If Tropical Cyclone Warning Signal No.3 or above, Amber, Red or Black Rainstorm Warning, or Thunder Warning is hoisted or if any unforeseen circumstances arise 2 hours before the performance starts, the organizer may at its sole discretion cancel the event. Please check YHA website, Facebook event page or contact HKYHA at 3728 3500 for updates of arrangements under inclement weather conditions or any event delays or cancellations.
Tickets sold are non-refundable and non-exchangeable. All handling charges collected are non-refundable.
HKYHA reserves the right to change, amend, add or delete any the Terms and Conditions without prior notice.
If the show is cancelled, the organizer reserves the right to amend the show date or refund.
Ticket holders can enjoy 10% off discount of food and beverage at Mei Ho House fullcupcafe on the show date. This coupon cannot be used in conjunction with other offers or promotions.
HKYHA reserves the right of final decision in case of any dispute.