TENT AND CHILL THEMED ROOM


YHA PAK SHA O YOUTH HOSTEL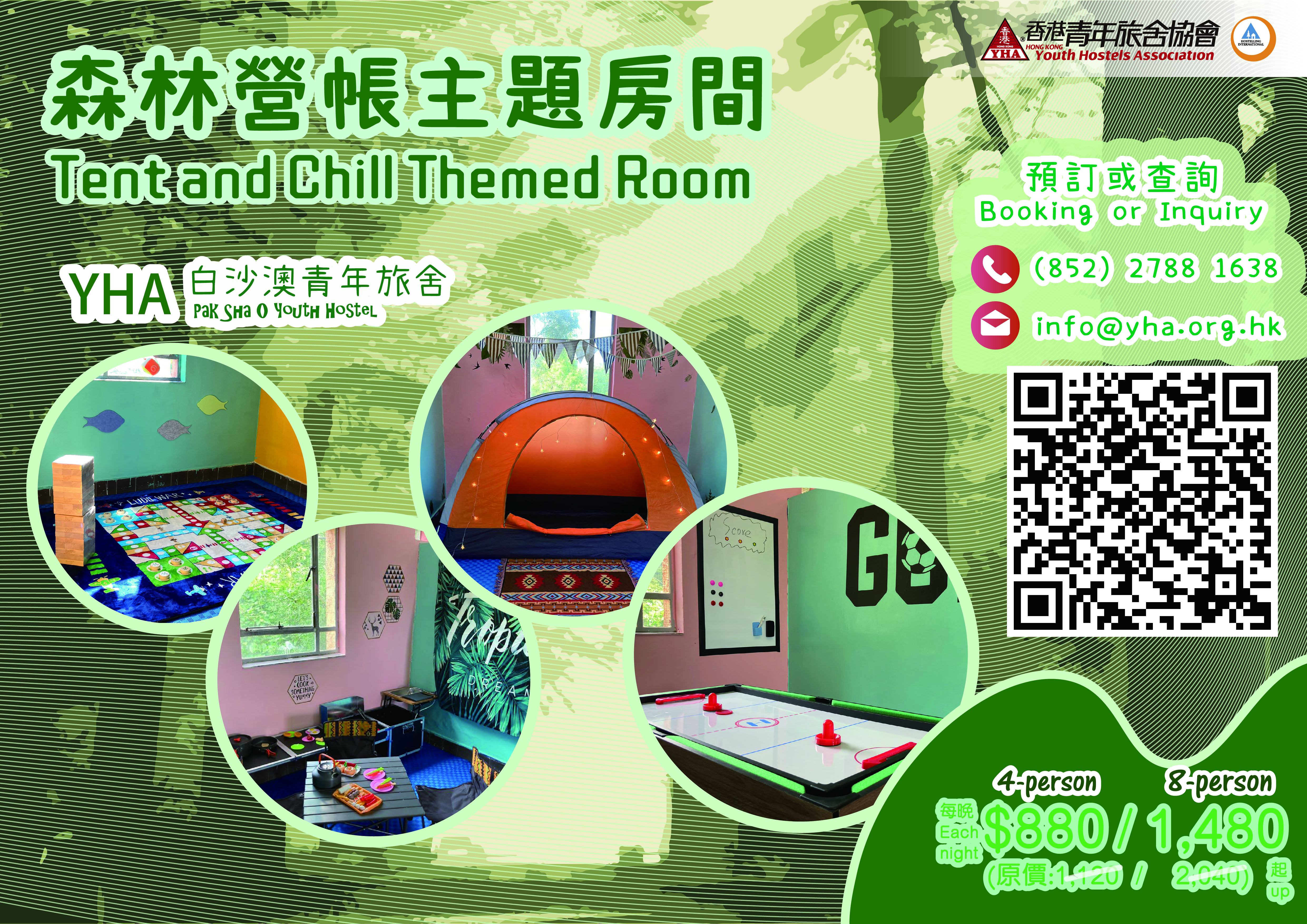 Tent and Chill Themed Room
Keep Calm And Camp On
Any plans after the relaxation of social distancing measures? Rather than staying in party rooms in urban area, why not try our brand new theme room in Pak Sha O? With a common area over 600 sq. feet, Jenga, Giant Aeroplane Chess etc. Camping in an air-con room without any annoying mosquito. You can also enjoy some party room features.
4 people cost for only $880 per night and 8 people cost $1480. Hit the link for booking.
Themed Room – Point to Note
The check-in time is from 4pm to 10pm; while the check-out time is from 9am to 11am the next day.
The Themed Room is capable for a maximum of 8 people only. For any cases of violation, the hostel will immediately terminate the stay of the guests without any refund. If the hostel suffers any losses or receives any fines from authorized authority as a result, Hong Kong Youth Hostels Association (HKYHA) and the hostel shall reserve the right to claim compensation from the guests.
No eating or drinking is allowed inside the room or dormitory.
No smoking is allowed in any areas of the hostel.
Different decorations and gaming facilities are equipped in the room, guests must follow the guideline and should not move or pull any of them without authorization to prevent accidents or damages. The props and gaming facilities must be used inside each room only and guests should not take them out from the room. Please contact hostel staff to assist if necessary.
Return all game equipment to reception staff when check out.
In case of causing any damages or losses of the decorations and props, the following compensation fee will be charged:
Decorations
Wall Tapestry: HK$200 each
Lighting Chain: HK$200 each
Wall Decoration: HK$200 each
Shoe Cabinet: HK$200 each
Table: HK$200 each
Charis: HK$200 each
Power Bank: HK$500 each
Mini Kitchen: HK$1000 each
Tent: HK$1,000 each
Other Decoration: HK$100 each
Gaming Facilities
Dice: HK$200 each
BBQ GrillRole Play Toy Set: HK$500 each
Jenga: HK$500 each
Giant Aeroplane Chess: HK$500 each
Multi-Game Table: HK$3,000 each
Other Toys: HK$100 each
Guests are required to take off their shoes before entering the area of foam mat and put their shoes into the cabinet inside the room
Guests are required to read and follow this "Point to Note", otherwise the hostel has the right to refuse or terminate the stay of the guests immediately
HKYHA has the right to amend any details of this "Point to Note" without prior notice.
HKYHA has the sole and final decision in case of any disputes.