AUTUMN PROMOTION IN YHA MEI HO HOUSE YOUTH HOSTEL


FROM NOW ON, LOCAL / GLOBAL INDIVIDUAL MEMBERS PLACING BOOKING VIA PHONE, EMAIL OR WALK-IN FOR ANY STANDARD OR THEMED TWIN / DOUBLE / FAMILY ROOM DURING 1 SEPTEMBER - 30 NOVEMBER 2014, CAN ENJOY A $100 DISCOUNT PER NIGHT UPON PRESENTING THE BELOW COUPON (BOTH DOWNLOADED E-COUPON AND HARD COPY ARE ACCEPTED)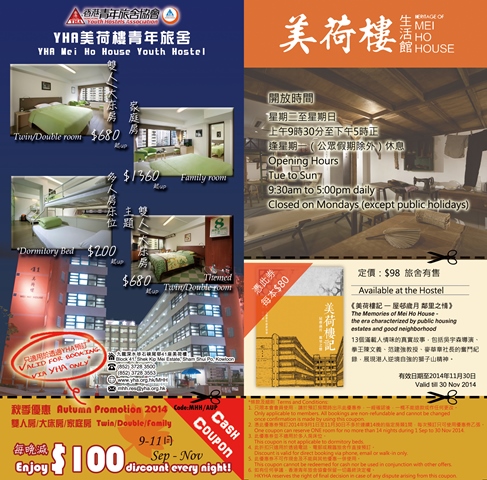 From now on, local / global individual members placing booking via phone, email or walk-in for any standard or themed twin / double / family room during 1 September – 30 November 2014, can enjoy a $100 discount per night upon presenting the below coupon (both downloaded e-coupon and hard copy are accepted).
With this coupon, either downloaded version or hard copy, all visitors can purchase "The Mei Ho House Book" at the hostel reception or Mei Ho House fullcup store at promotional price $80 (original $98 each).
Hard copies of the coupon will be available very soon in YHA Mei Ho House Youth Hostel. Don't miss the chance to enjoy a promotional stay in our hostel this autumn!
Terms and conditions:
Only applicable to members. All bookings are non-refundable and cannot be changed once confirmation is made by using this coupon.
One coupon can reserve one room for no more than 14 nights during 1 Sep to 30 Nov 2014.
Discount is valid for direct booking via phone, email or walk-in only.
This coupon cannot be redeemed for cash nor be used in conjunction with other offers.
HKYHA reserves the right of final decision in case of any dispute arising from this coupon.
Please click here to download "YHA Mei Ho House Youth Hostel e-coupon"