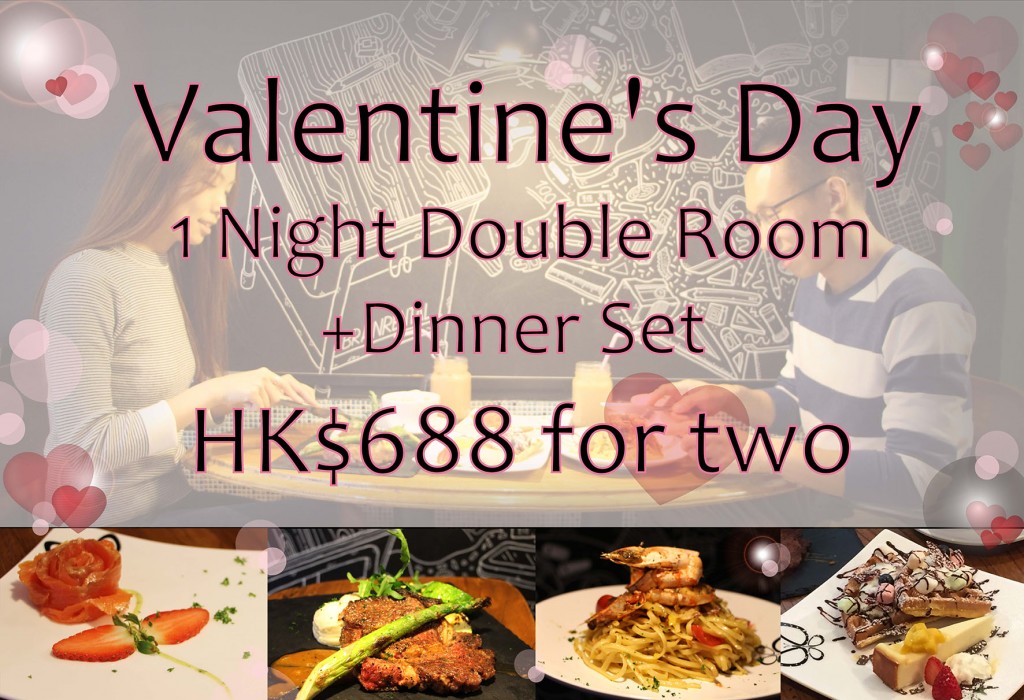 The best gift to have would be spending the time with the one you love on Valentine's Day. YHA Mei Ho House Youth Hostel is offering a Valentine's Day Package for you to celebrate this special day with your lover!
HK$688 Valentine's Day Package includes:
• A night of double room
• Late check-out at 2pm
• HK$100 HOUSE41 cash coupon X2 (can be used for Valentine's Day dinner set)
• HOUSE41 breakfast for two
You can enjoy the night at HOUSE41 for the Valentine's Day dinner set. The set includes various choices of dishes, with appetisers and desserts. Have a sweet one!
Valentine's Day Dinner Set (HK$160 for 2)
Appetisers
Smoked Salmon or Mushroom Cream Soup
Main Courses (Choose 2 dishes)
Roast Duck Breast w/ Blueberry Sauce
Tiger Shrimp Garlic Pasta
Sole Fish with Aioli Sauce
Grilled US Ribeye w/ Peach Gravy
Desserts
New York Cheese Cake w/ Waffle
Drinks
Coffee or Tea
Booking period starts from now on till Feb 14! Make a booking immediately on phone: (852) 3728 3550 or by email: mhh.res@yha.org.hk !
Remarks
1. Offer is only valid from 12 Feb 2017 to 14 Feb 2017.
2. This offer does not applicable to group booking. It cannot be used in conjunction with other offers or promotions. No cancellation and/or refunds shall be entertained.
3. Limited quota per day. First come first served.
4. HOUSE41 cash coupon for dinner is valid till 28 Feb 2017.
5. In case of any dispute, YHA Mei Ho House Youth Hostel reserves the right of final and conclusive decision.