NEW CAFé & MINI STORE OPENED AT MEI HO HOUSE!
After a series of renovation work, the new café & mini store at YHA Mei Ho House Youth Hostel finally open doors to public since 21 May 2016!
Renamed to echo with the historic architecture
To match with the hostel's address as "Block 41 of Shek Kip Mei Estate", we have specially named the new café "HOUSE 41" and the new store "MINI 41". While in the front courtyard, that is the spacious outdoor space right at the hostel entrance, a old-time playground game "Hopscotch" has been sketched on the ground for public guests to have some nostalgic fun.
Innovative designs by 5 up-and-coming local artists
To extend the nostalgic Hong Kong flavour, we have invited 4 local up-and-coming artists to visit the café in person and create their masterpieces on site. They include Brainrental, Miloza, Tik Ka and McMary, who specialize in different style of painting. Through illustrating old-time school life, vintage toys, cartoon comics and old street views with their original techniques, they will together introduce the theme of "Sharing Happiness" in the café and convenience store area to invoke Hong Kong people's collective memories.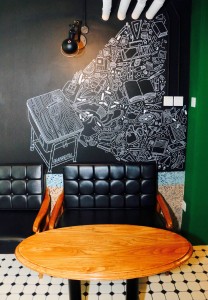 Illustration by Brainrental featuring school life of the old days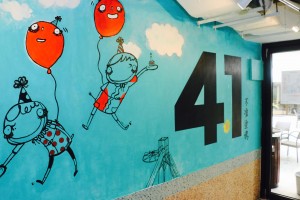 Illustration by McMary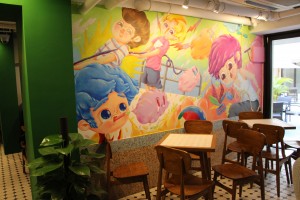 Illustration by Miloza featuring old-HK toys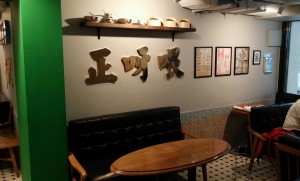 A popular photo-point with funny Cantonese slang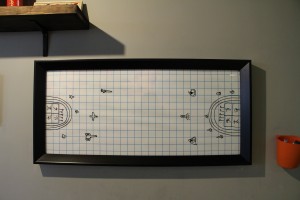 Interactive HK-style game zone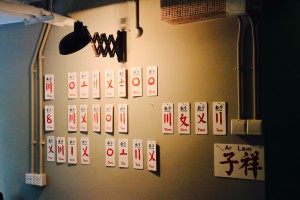 Lyrics of a local song displayed with old-Hong-Kong numbers
East meets west – fresh & healthy fusion cuisine offered!
One of the missions of the café is to provide fresh and healthy food for customers. Apart from their signature dishes "Roasted Suckling Pig in Segovia Style with Apple Cinnamon Sauce" and "Beer Battered Sole Fillet with Fries and Salad", the vegetarian dishes "Grilled Tofu Burger" and "Energizing Fruit Smoothies" are the choices that are worthy trying. It also offers HK-style fusion items such as "Egg Waffles with Peanut Butter and Caramel Banana" and "Almond tea with dried fruits" to match with YHA Mei Ho House's nostalgic atmosphere. For the breakfast menu, 3 different sets are available for visitors to choose from, including Western-style breakfast, Continental breakfast for vegetarians and Chinese-style breakfast. In-house guests may also enjoy the breakfast along with the accommodation.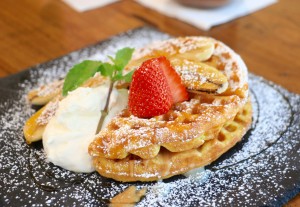 Egg Waffles with Peanut Butter and Caramel Banana
Grilled Pork Knuckle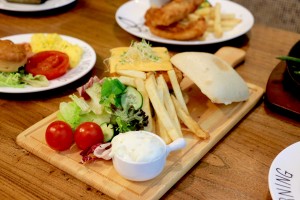 Tofu Cheese Burger and Fries with Tartar Sauce
MINI 41, the convenience store right opposite the café also follows a nostalgic Hong Kong theme. Apart from featuring Don Mak's illustrations of old Hong Kong street view, a variety of products can also be found, including old-style HK toys and snacks, travel products, specialty wines, double happiness cutleries, vintage cock bowls, Chinese-style embroidery coins bag and traditional opera facial mask coaster set.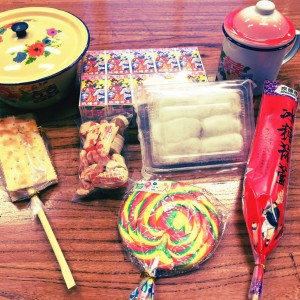 Old-style HK snacks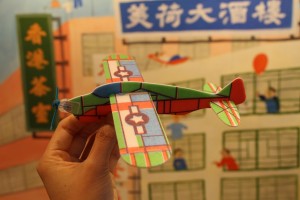 Old-style paper airplane model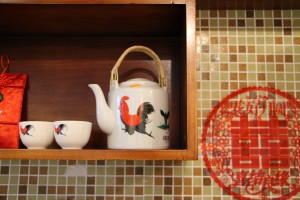 Vintage cock teapot and cups
Opening hours
HOUSE 41 café: 7am-12am (Last order at 10pm)
MINI 41 store: 10am-10pm