MOUNT DAVIS CAMP 2017


GUIDED TOUR, HERITAGE CONSERVATION, NIGHT WALK AND MUSIC CONCERT
Friends of Mount Davis, Hong Kong Youth Hostels Association and HKTraveler are co-organizing the Mount Davis Camp 2017 (2D1N).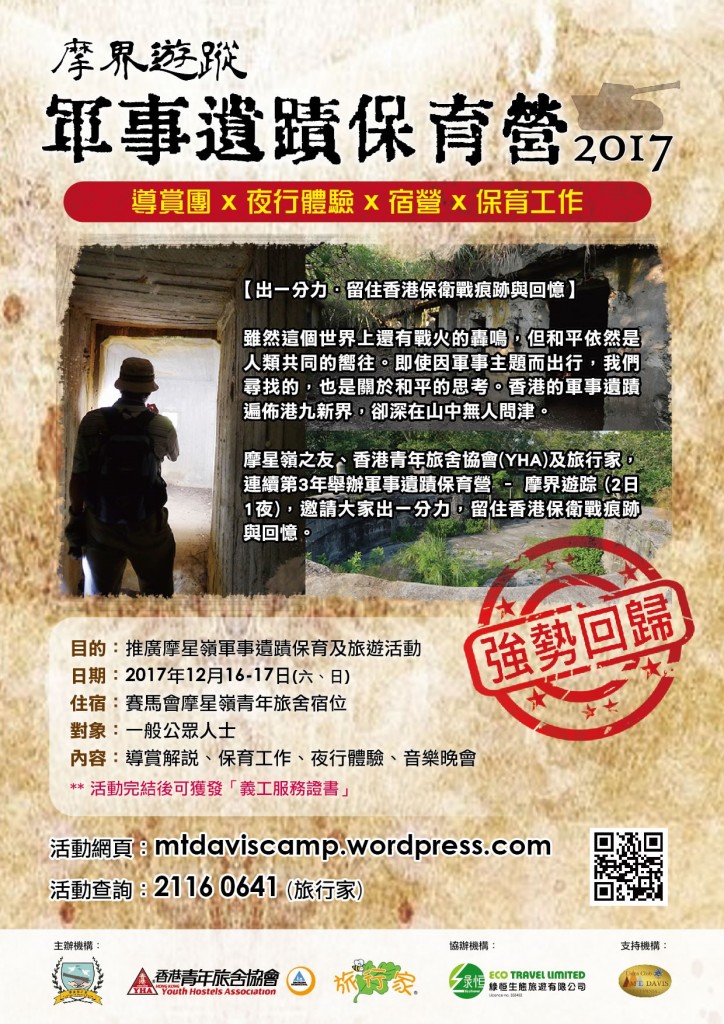 Through walking along the military heritage in Mount Davis, participants could investigate and criticize the questions of peace in the world nowadays. Mount Davis was one of the important artillery depot of the British forces in the WWII. Many military heritages could be found in that area and would take about three days to visit and study all of them. The most important and popular heritage would be the five 9.2-inch guns. Walking along the Mt Davis Path, you can search for a hidden castle with vine covering most of its surface, to avoid the attack of enemies in the past. It seems like a mystery nation with majestic buildings surrounding.
This event is held to encourage participants to visit the meaningful military heritage, learn about the Hong Kong history and to engage in the work of heritage conservation. Participants will be arranged to spend the night at Hong Kong Jockey Club Mount Davis Youth Hostel to enjoy the sublime sunset at the 270-degree sea view observatory deck.
Everyone are welcome to join us, no matter you are coming by yourself or with your friends and family members. As long as you are interested in the heritage, willing to learn about the hostel experience, or engaging in conservation project, you are welcome to come and join us!
Date: 16-17 December 2017 (Sat to Sun)
Accomodation: Jockey Club Mt. Davis Youth Hostel
Fee: HKD600 / HKD550 (YHA member)
Content: Guided tour, heritage conservation, night walk, music concert
Target: Public, families, people who are interested in heritage
Quota: 80
Language: Cantonese
Event website: https://mtdaviscamp.wordpress.com/