DO NOT MISS THE LEONID AND GEMINIDS METEOR SHOWER!


COMPLIMENTARY TORCH AND STAR ATLAS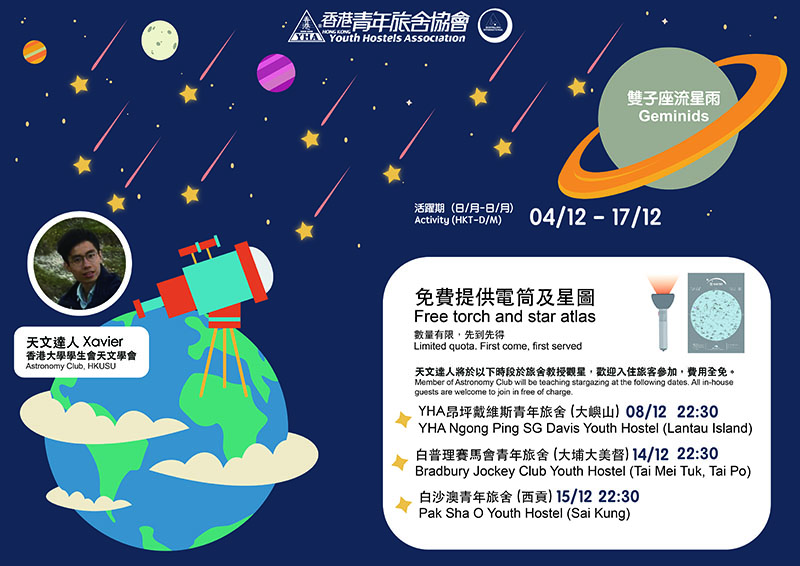 Despite Hong Kong suffering from the effects of light pollution, we are still able to enjoy some amazing stunning sights in the night sky in our suburban and countryside hostels! Check out the upcoming major meteor stream and get ready for the show!
Local Observation Condition is estimated by the effect of moonlight during maximum and whether the observation period is favourable to Hong Kong. It is divided into five levels, which are "Bad", "Unfavourable", "Fair", "Favourable" and "Excellent". This year, you will have the chance to watch dazzling display of shooting stars streaking across the sky, with the Leonids (favourable) and the Geminids (excellent) in November and December! Visit our 4 hostels in Tai Mei Tuk (Taipo), Sai Kung or Lantau Island and you will be given a complimentary tiny torch and star atlas when you stay with us during the below suggested observation period! See if you are lucky enough to meet our astronomer, giving you the best guide of stargazing!
Shower
Activity
(D/M-D/M)
Maximum
(HKT-D/M)
Zenith Hour Rate (ZHR)
Suggested Observation Period
Local Observation Condition
Leonids
06/11 – 30/11
18/11, 00:30
10
18/11, 0:00 – 5:30
Favourable
Geminids
04/12 – 17/12
14/12, 14:30
120
13/12, 19:30 – 14/12, 6:00
14/12, 19:30 – 15/12, 6:00
Excellent
Source of data: Hong Kong Space Museum
Meet our astronomer!
Date: 17 -18 November 2017
Venue: Bradbury Jockey Club Youth Hostel (Tai Po)
Date: 8 December 2017
Venue: YHA Ngong Ping SG Davis Youth Hostel (Lantau Island)
Date: 14 December 2017
Venue: Bradbury Jockey Club Youth Hostel (Tai Po)
Date: 15 December 2017
Venue: Pak Sha O Youth Hostel (Sai Kung)
Other suggested hostels
Bradbury Hall (Sai Kung) www.yha.org.hk/ck
Book it NOW!