PRE-CELEBRATION OF HKYHA 45TH ANNIVERSARY


ROUND 3: HK$450 HASSLE-FREE CAMPING 2.0 @PAK SHA O YOUTH HOSTEL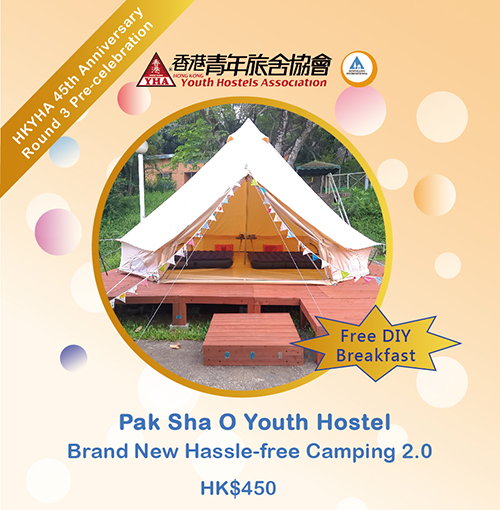 Hong Kong Youth Hostels Association (HKYHA) is approaching its 45th Anniversary in the coming September. Here comes the third round pre-celebration promotion!
Since the launch of "Hassle-free camping 2.0" at YHA Ngong Ping SG Davis Youth Hostel, we have been receiving overwhelming responses from young people, couples as well as families to meet us for a lovely countryside getaway. To spread the fun experience, we have decided to extend the campaign to Pak Sha O Youth Hostel.
For every Sunday to Thursday of July to September, you can enjoy Hassle-free camping 2.0 Bell Tent at special membership price HK$450 per night for 3 persons (originally HK$560). Additional person charge will be at a special promotion price HK$45 per person (originally HK$130)! You can find our brand new Bell Tents equipped with basic set ups of pillows, blankets and beddings, sleeping pads, tent lighting, storage boxes, Bluetooth speaker, tea tables and decorations, suggesting a brand new hassle-free way for nature-lovers to stay away from home and enjoy a refreshing camping experience.
Package Privileges:
1 night of Hassle-free Camping 2.0 (For 3 persons)
Complimentary Wi-Fi
Board games to be borrowed at the reception
Self-catering kitchen and bathroom
Pak Sha O Youth Hostel is the best pick for ecology explorers! You can snorkel to enjoy the colourful coral communities, at Hoi Ha Wan Marine Park, immerse yourself in the beauty of the mangrove, or admire the splendour of the sedimentary rocks on the beach.
Add on: FREE DIY Breakfast!
Starting from 22 Aug 2017, you can book Hassle-free camping 2.0 for the staying period of 28 Aug – 30 Sept 2017 to enjoy three sets of FREE DIY breakfast! Waking up in the next morning, you can enjoy the time preparing DIY breakfast with your beloved ones, with our freshly food ingredients provided. Choose either a Hong Kong-style or western-style breakfast.
Set A

-1 instant noodle
-2 eggs
-Fruit juice or hot drink

Set B

-2 slices of Bread
-1 egg
-1 bowl of cereal with milk
-Hot drink
*Add HK$30/person for additional DIY breakfast
Staying Period:
Sunday to Thursday, From 16 July to 30 September 2017
Book Now!
Book a tent and explore the ideal outdoor geological classroom!
Email us at info@yha.org.hk with the subject "HKYHA 45th Anniversary Offer". (Enquiry: 852-2788 1638)
Pak Sha O Youth Hostel www.yha.org.hk/pso
Suggested route for weekend trip
Day 1
1:00pm   Arrive Sai Kung Pier and get some food for dinner and breakfast.
2:00pm   Take the minibus no.7 to the hostel.
3:00pm   Arrive and check-in
3:30pm   Ride the bike along Hoi Ha Road to Hoi Ha Wan
4:00pm   Snorkelling or kayaking
7:00pm   Ride the bike back to the hostel
7:30pm   Do some cooking or barbecue at the hostel
9:30pm   Enjoy the starry night
10:30pm Good night!
Day 2
9:00am   DIY breakfast!
10:00am Cycling/basketball matches/board games
1:00pm   Check-out
1:00pm   Trek to Lai Chi Chong Pier
2:00pm   Check out the rare volcanic sedimentary rocks
6:00pm   Take the ferry to Ma Liu Shui Ferry Pier
7:00pm   End of the fruitful trip!
---
Terms & Conditions:
This offer is applicable to the booking period from now on until 30 September 2017 and the staying period of 16 July to 30 September 2017.
Each booking should consist of a minimum of 1 person and a maximum of 6 persons.
Price is shown as member price and this offer is only applicable to YHA members. Each member can bring a maximum of three non-members to enjoy the offer. Guests can apply for YHA membership on site.
Limited quota. Offer is subject to availability.
This offer cannot be used in conjunction with any other discounts or promotional offers.
Booking must be made by sending email to info@yha.org.hk with the subject "HKYHA 45th Anniversary Offer". No alteration will be entertained once the booking is confirmed. This promotion is non-refundable and non-transferable.
In case of any dispute, HKYHA reserves the right to have the final and conclusive decision.