SUMMER CHALLENGE@MEI HO HOUSE
It's August again, are you still thinking about where to go for your summer holidays? Don't think twice, make a date with your friends and family to visit the Heritage of Mei Ho House!
Visiting Heritage of Mei Ho House not only allows you to learn more about the lives of residents living in resettlement buildings in the 1950s and 1960s and the community of the old days, but you can also participate in the "Summer Challenge@Mei Ho House" campaign. Simply visit Heritage of Mei Ho House and participate in a simple game, answering questions related to Mei Ho House, and you will have a chance to win a one-night stay at YHA Mei Ho House Youth Hostel or HKYHA Countryside Hostel (1 winner), and 50% OFF vouchers for 6 designated YHA hostels (3 winners) ! Isn't it attractive? What are you waiting for? Come and join us at Heritage of Mei Ho House!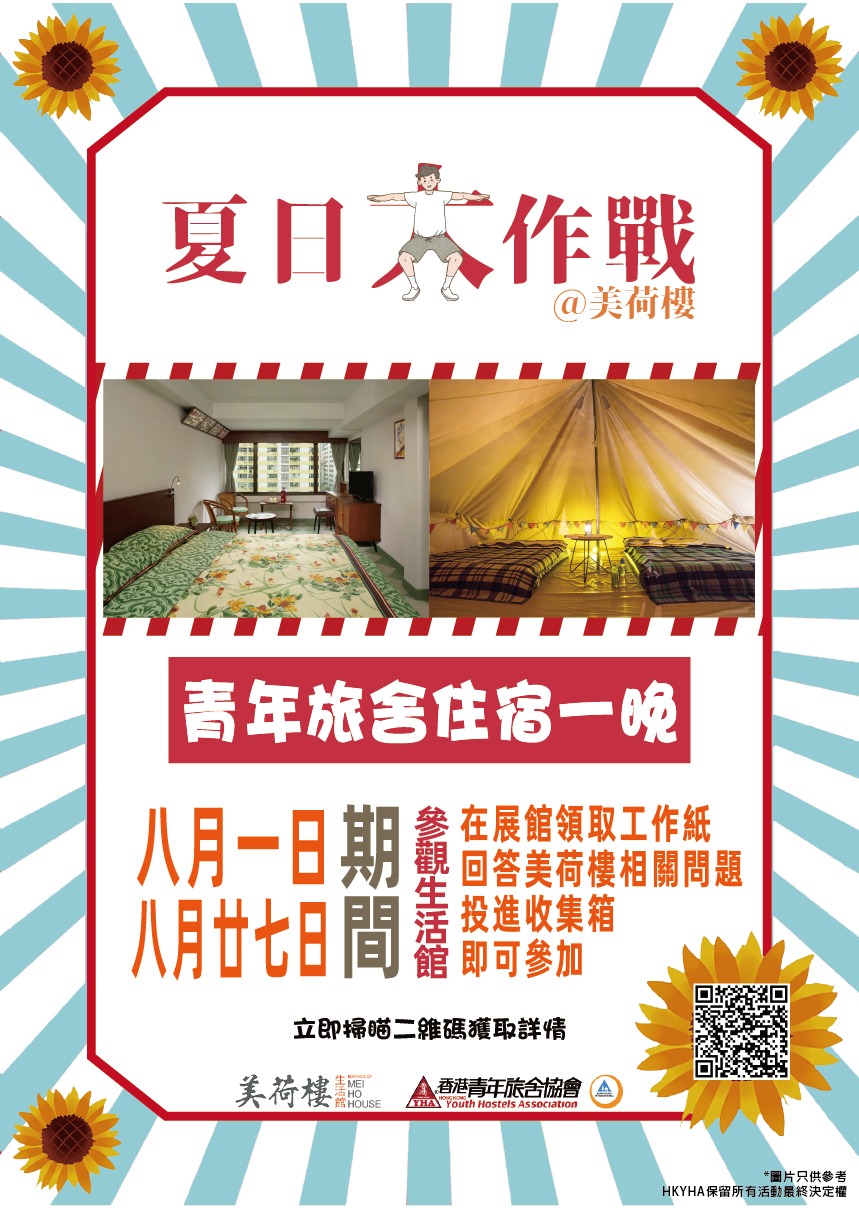 Terms and Conditions
The Hong Kong Youth Hostels Association (HKYHA) is the organiser of the event, details of which are set out below:
The activity period is from 1 August to 27 August.
Participants must be aged 8 or above and each participant can only join the activity once.
Participants are required to provide the following personal information, including name, telephone number and email address which are the same as those in the identity document, in order to participate in the activity. HKYHA reserves the right to disqualify the participants from winning the prize if the information provided by the participants is incomplete, unclear, inaccurate or has any omission.
Winners will be notified by email to collect the prize within one month.
Winners are required to collect the prize in person at YHA Mei Ho House Youth Hostel (Address: Block 41, Shek Kip Mei Estate, 70 Barwick Street, Shamshuipo, Kowloon) during office hours (10:00-18:00). Winners who fail to collect their prizes on or before 15 September will be deemed to have forfeited their prizes.
All prizes are distributed at the discretion of HKYHA and winners have no right to choose.
All prizes are non-transferable, non-exchangeable, non-returnable or non-exchangeable for cash.
HKYHA reserves the right of final decision on all event registrations.
Personal data collected by HKYHA will be kept strictly confidential and will only be used for communication between HKYHA and participants.