HOSTELS OPENING & RESERVATION ARRANGEMENT


(UPDATED ON 30 APRIL 2022)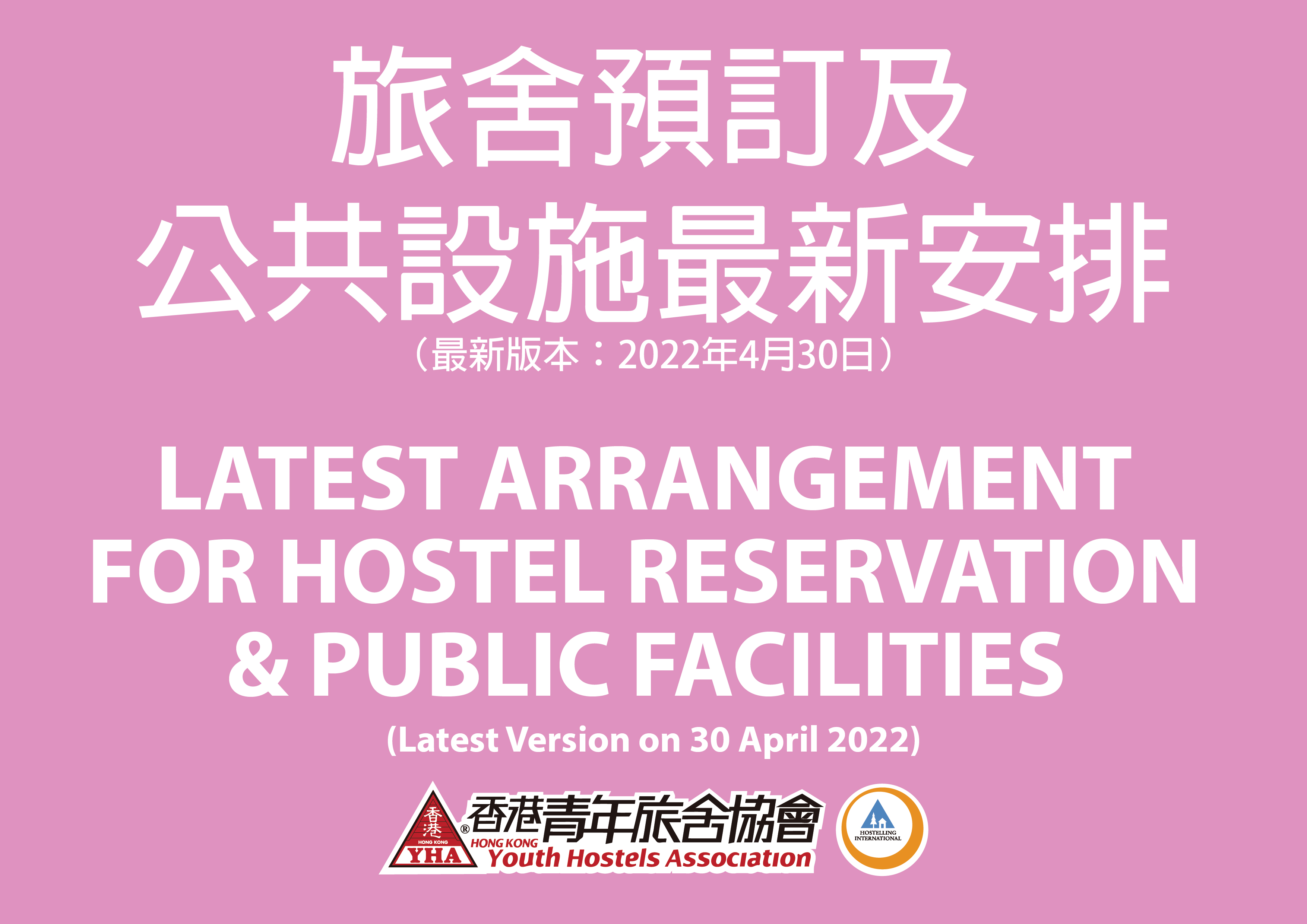 In response to the latest situation of COVID-19, the following adjustment will be made to existing Hostels Opening & Reservation Arrangement:
The 7 hostels are reopened for provide hosteling service and resume normal booking on 1 May 2022. Staying guests or visitors of our 7 hostels must scan the "LeaveHomeSafe" QR code before entering (except specified individuals may fill in a designated form as an alternative).
All guests entering the six hostels (except YHA Mei Ho House Youth Hostel) must follow the policy of our hostels implemented according to the latest government disease prevention measures, including the vaccination requirements stated in "Vaccine Pass" rules which come into force on 30 April 2022.
In order to maintain and ensure the good health of all staying guests and staff, any staying or bookings of the following guests will remain suspended until further notice:
❶ guests who are undergoing quarantine,
❷ guests who are wearing the "quarantine electronic wristbands",
❸ guests who have entered Hong Kong within the last 14 days, or
❹ guests who have had contact with a probable/confirmed case of COVID-19 in the past 14 days
Guests who have been subjected to compulsory COVID-19 testing in the past 14 days will still be required to make a declaration during check in and present a proof of a negative test result in order to stay in our hostels.
Heritage of Mei Ho House (HMHH) and Garden 41 will remain closed. Other public facilities including Back Courtyard and washrooms are open from 9:00 am to 7:00 The opening hours for Garden at Mei Ho Cafe are 9:00 am to 6:30 pm.
The number of staying guests for each Room, Private Dormitory, Tent, Bell Tent or Tent of Bring Your Own Tent of our 7 hostels should not be more than 4 people. Meanwhile, Tents of Bring Your Own Tent should keep a distance of 1.5m or more to each other.
Bookings of dormitory beds for all 7 hostels will remain suspended until further notice.
For inquiry, please contact us by email ([email protected]) or call (2788 1638) during office hours. For inquiry related to YHA Mei Ho House Youth Hostel, please send email to [email protected] or call 3728 3550 / 3728 3500.
We truly apologize for any inconvenience caused.
Hong Kong Youth Hostels Association
30 April 2022