HASSLE-FREE CAMPING: NOW EXTENDED TO JOCKEY CLUB MT. DAVIS YOUTH HOSTEL!
Since the launch of "Hassle-free camping" at YHA Ngong Ping SG Davis Youth Hostel in Feb 2015, we have been receiving overwhelming response from young people, couples as well as families to meet us on Lantau Island for a lovely countryside getaway.
To spread the fun experience, we have decided to extend the campaign to our popular sea view hostel, Jockey Club Mt. Davis Youth Hostel.  The campaign suggests a brand new hassle-free way for nature-lovers to stay away from home and enjoy a refreshing camping experience.
Waking up to a 270 Degrees panoramic sea view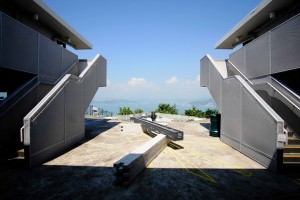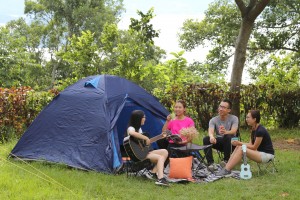 With the hostel's perfect location, you will be able to wake up to the breathtaking panoramic views of Victoria Harbour every morning at the 270 Degrees observation deck.
The steps adjacent to the hostel lead you to the historic Mount Davis Batteries and see the remains of bunkers and other traces of WWII.
Free shuttle bus service is provided between Kennedy Town and the hostel, which takes you to the heart of Hong Kong easily.
Make Your Own Breakfast!
With member rate HK$300up for 2 persons, tent equipment and set up for you. You are also free to use the hostel kitchen and bathroom. Sleeping pads, pillows, blankets and beddings, tents lighting will be provided.
The next morning, enjoy your time preparing you DIY breakfast with your beloved ones, using our freshly provided food ingredients.
Fun add-on: Barbecue dinner under the starry sky
You must agree that a delicious barbecue feast is always the best match for outdoor camping. Therefore, on top of having your tent ready by us, you can also get barbecue packs* with free barbecue utensils (including charcoal, barbecue forks and honey) at HK$150/person.
Guests purchasing our barbecue packs will even enjoy free parking during their stay.
* Barbecue packs include Jinga shrimps,beef steaks with black pepper, garlic chicken fillet, chicken wings with honey, mixed meat balls, pork chop and more. Guests are requested to book the barbecue packages at least 5 working days prior to the check-in date.
Hassle-free camping: Jockey Club Mt. Davis Youth Hostel
Details: 

Tent equipment ready and set up; Free shuttle bus service; Ingredients for DIY breakfast (1 set/person); Free use of the hostel kitchen and bathroom

No. of persons:

2-4 persons/camp

Rate: 

(Low period) member rate HK$300 for 2 persons, with an extra $140/person (max. 4 persons)

(Peak period) member rate HK$380 for 2 persons, with an extra $140/person (max. 4 persons)

Booking method:     

(1)  Online reservation (click here)

(2)  Email to [email protected]

(3) Call us at 2817 5715 (hostel)

Enquiry hotline: 

2817 5715
Book now to enjoy an unforgettable weekend getaway!
Terms and Conditions:
Each booking should consist of a minimum of 2 persons and a maximum of 4 persons.
Price is shown as member price and this offer is only applicable to YHA members. Each member can bring a maximum of three non-members to enjoy the offer. Guests can apply for YHA membership on site.
All bookings must be confirmed with payments settled at least 3 days prior to the check-in date.
For bookings with barbecue food packages added, the no. of food packages ordered must be the same as the no. of guests. Guests aged over 12 must purchase one set of food package.
Limited tents. First come first served.
All tent users have to abide by the HKYHA hostel rules and guidelines.
Except for cases of adverse weather conditions stated in "Notes and Guidelines for Booking", no alteration shall be entertained.
HKYHA has the sole and final decision in case of disputes.