PRE-CELEBRATION OF HKYHA 45TH ANNIVERSARY


ROUND 2: HK$450 HASSLE-FREE CAMPING 2.0 @YHA NGONG PING SG DAVIS YOUTH HOSTEL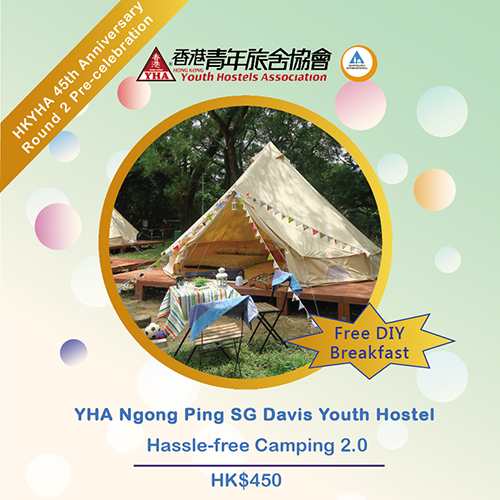 Hong Kong Youth Hostels Association (HKYHA) is approaching its 45th Anniversary in the coming September. Here comes the second round pre-celebration promotion!
Summer is the time to have fun! For every Sunday to Thursday of July to September, you can enjoy YHA Ngong Ping SG Davis Youth Hostel Hassle-free camping 2.0 Bell Tent at special membership price HK$450 per night for 3 persons (originally HK$560). Additional person charge will be at a special promotion price HK$45 per person (originally HK$130)!
You can find our brand new Bell Tents equipped with basic set ups of pillows, blankets and beddings, sleeping pads, tent lighting, storage boxes, Bluetooth speaker, tea tables and decorations. Our friendly hostel staff are also organizing a series free summer activities for our in-house guest. Join us this summer not only to experience the nature with a tent, but also participate in summer workshops and treasure hunting game!
Package Privileges:
1 night of Hassle-free Camping 2.0 (Maximum 3 persons)
Treasure Hunt Game (10 July to 31 August only)
Free DIY Workshop (10 July to 31 August only)
Complimentary Wi-Fi
Board games to be borrowed at the reception
Self-catering kitchen and bathroom
Add on: FREE DIY Breakfast!
Starting from 22 Aug 2017, you can book a room/bed/Hassle-free camping 2.0 for the staying period of 28 Aug – 30 Sept 2017 to enjoy FREE DIY breakfast! Waking up in the next morning, you can enjoy the time preparing DIY breakfast with your beloved ones, with our freshly food ingredients provided. Choose either a Hong Kong-style or western-style breakfast.
Set A

-1 instant noodle
-2 eggs
-Fruit juice or hot drink

Set B

-2 slices of bread
-1 egg
-1 bowl of cereal with milk
-Hot drink
Remarks:
Free DIY breakfast will be given according to the designated number of guests in each hostel room/bed (i.e. 1 set for dorm bed, 4 sets for 4-bedded room). Guests who stay at Hassle-free Camping 2.0 can enjoy three sets of free DIY breakfast.
Add HK$30/person for additional DIY breakfast
Free DIY Breakfast is not applicable to group booking.
Treasure Hunt
During the summer, YHA Ngong Ping SG Davis Youth Hostel will organize a treasure hunt every day at 6pm from 10 July till 31 August. Guests can form their own team of at most three and register at the hostel reception when you arrive. To win the game, guests have to find out all the 15 hidden places by following a series of clues on a treasure map. Be ready physically and mentally as you have to face lots of challenges including racing and problems solving. Collect all the hidden treasure and win for the real one! No cost, strive for the best!
DIY Summer Workshops
If you prefer to have some indoor activities, join our free DIY summer workshops. Different types of summer workshops will be held every morning at 10:30am starting from 10 July till 31 August. Spend half an hour with us to create your own shopping bags, spinning top or wind chimes!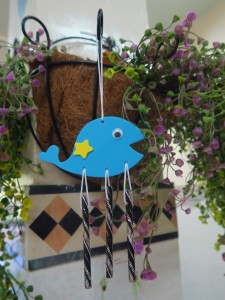 The hostel is situated in a spectacular landscape and surrounded by attractions full of Chinese flair including the Big Buddha, Po Lin Monastery, and the Wisdom Path. You may also choose to hike as the hostel is close to various fascinating hiking trails such as the famous Lantau Trail!
Enjoy a relaxing short summer holiday in Lantau Island and immerse yourself in the wonderful nature.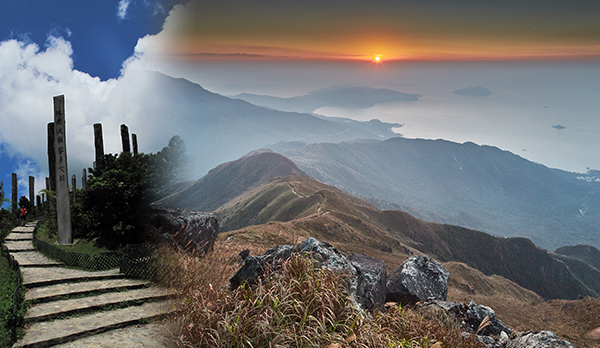 Staying Period:
Sunday to Thursday, From July to September 2017
Book a tent now!
Click here for online booking or email us at info@yha.org.hk. (Enquiry: 852-2788 1638)
YHA Ngong Ping SG Davis Youth Hostel www.yha.org.hk/np
---
Terms and Conditions:
This offer is applicable to the booking period from now on until 30 September 2017 and the staying period of Sunday to Thursday of 1 July to 30 September 2017.
Each booking should consist of a minimum of 1 person and a maximum of 6 persons.
Price is shown as member price and this offer is only applicable to YHA members. Each member can bring a maximum of three non-members to enjoy the offer. Guests can apply for YHA membership on site.
All bookings must be confirmed with payments settled at least 3 days prior to the check-in date.
No reservations for barbecue site, Treasure Hunt Game and DIY Workshop. Limited quota, first come first served.
Limited tents. First come first served.
This offer cannot be used in conjunction with any other discounts or promotional offers.
All tent users have to abide by the HKYHA hostel rules and guidelines.
Except for cases of adverse weather conditions stated in "Notes and Guidelines for Booking", no alteration shall be entertained.
HKYHA has the sole and final decision in case of disputes.