FACEBOOK BEST MOMENT @ HKYHA - WIN FREE STAY IN HONG KONG OR SEOUL YHA HOSTELS!
HKYHA is offering you a chance to stay with us! Be creative and win free accommodation in YHA hostels. The most creative photo taken in YHA Mei Ho House Youth Hostel can win 1 night accommodation coupon in YHA Mei Ho House Youth Hostel. Tell us which HKYHA's hostel you would like to stay at and tag a friend to go with you, the most creative comment can win complimentary accommodation coupon for 1 twin room in Hi Seoul Youth hostel located in Seoul!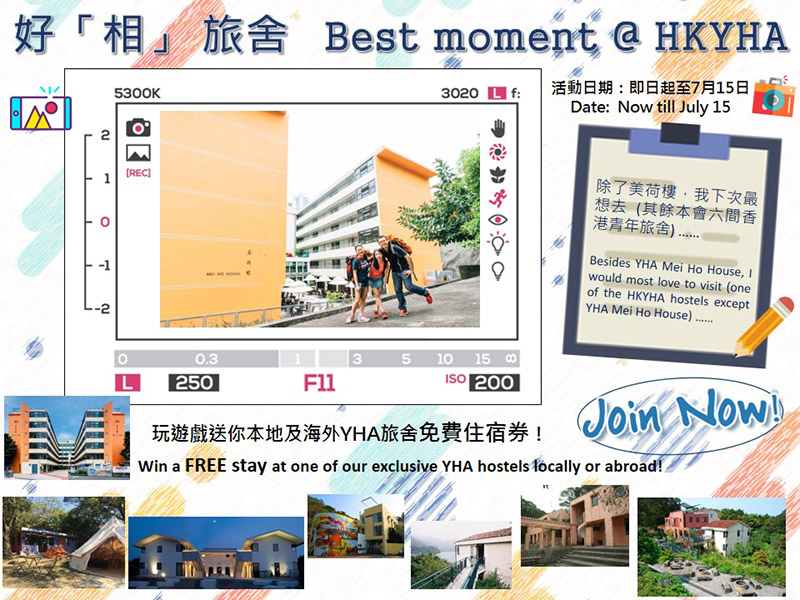 Follow the steps below starting from now until 23:59 on 15th July, 2018 (Sunday):
1.Like "YHA Hong Kong Youth Hostels Association" and"YHA Mei Ho House Youth Hostel" Facebook page
2.Like and share this post (set as public).
3.(i) Upload a photo of YHA Mei Ho House and (ii) leave a comment on this post: Besides YHA Mei Ho House, I would most love to visit XXX (one of the HKYHA hostels except YHA Mei Ho House Youth Hostel) because XXX (creative answer).
Successful enrolment list will be announced on 18th July,2018 (Wednesday), each winner will be contacted through Facebook Inbox. Please refer the details of terms and conditions on https://bit.ly/2xKF5Lw