YHA YOUTH CULTURAL EXCHANGE TOUR - HONG KONG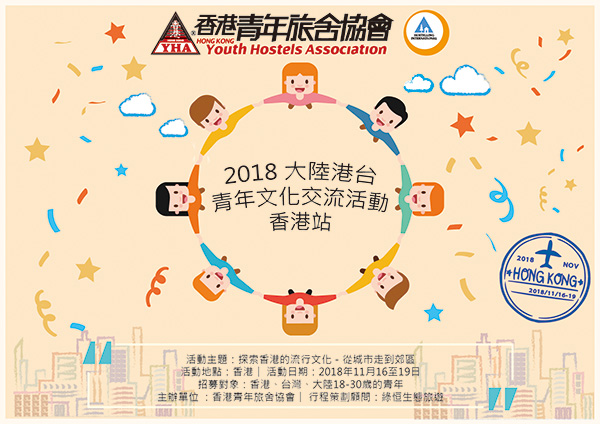 YHA Youth Cultural Exchange Tour has come to its fourth year and this year is being hosted by Hong Kong Youth Hostels Association. With the theme of discovering Hong Kong's culture, participants can learn about popular culture, history and ecology of Hong Kong through different local tours and workshops. Grasp the chance to exchange ideas with youngsters across the straits!
Act and register now!
DETAILS AND CHARGES
Theme: "Discovering Hong Kong's culture –from city to suburban area"
Date: 16 (Friday) – 19 (Monday) November 2018 (4 days and 3 nights)
Location: Hong Kong
Target participants: Youngsters aged 18 to 30 years old
Fee: HKD $2,100 (Member price)/ HKD $2,400 (Non-member price; Complimentary 1-year YHA senior membership will be offered)
(The price includes meals, accommodation, transportation, guided tour and insurance during the tour)
Registration Deadline: 30 September 2018 (Sunday)
Enquiry Email and Telephone: [email protected] / (852) 3728 3537
Others:
Participants are required to prepare a presentation about "popular culture, history and ecology development (any 2) of Hong Kong/ Taiwan/ China". The format of presentation can be PPT, video or photos.
Each participant has to prepare gifts which represent Hong Kong, for exchanging with participants from Taiwan and China.
For details, please click here
Terms and Conditions
Charges will apply in the event of cancellation prior to departure. If participant withdraw from the tour on or before 10 October 2018, 50% of full payment will be charged. If participant withdraw from the tour after 17 October 2018, 100% of full payment will be charged. In the event of cancellation, participants must do this in writing an email. Cancellation or alteration requests made through telephone are not accepted.
In the event of force majeure, hostilities, threat of war, terrorist attack, political unrest, bad weather or any other circumstances beyond her indirect or direct control, the tour will be postponed and HKYHA reserves the rights to make changes to the tour.
In case of any dispute, HKYHA reserves the right to have the final and conclusive decision.