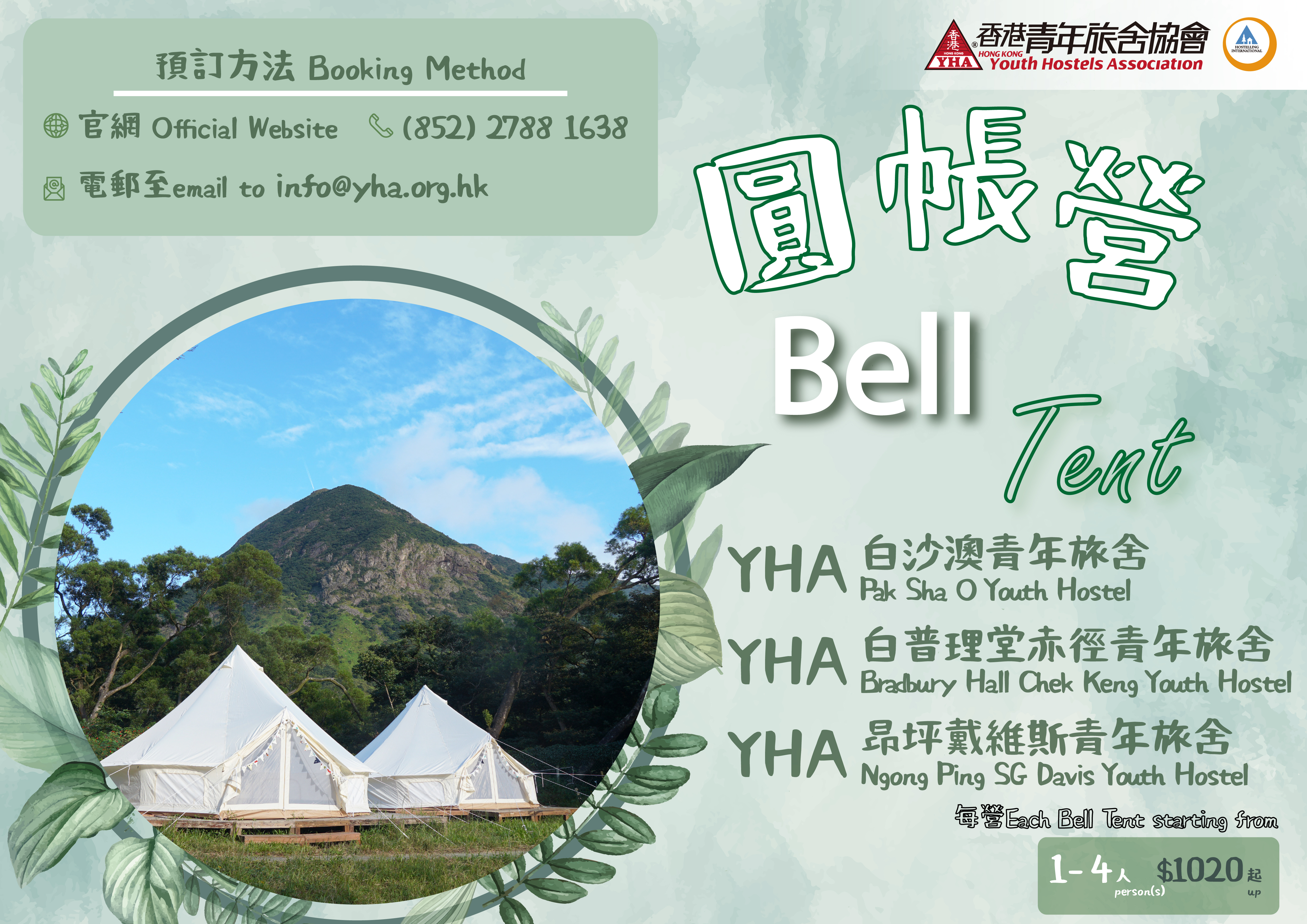 What is Glamping?
Glamping, a word for a new kind of travel, which defined as glamorous camping. Originated from the continents of Africa and Australia, it has developed rapidly in recent years and has been spread across the world and becoming a new camping culture. There are kinds of Glamping: Mongolian Ger, Treehouse, Camping Car…etc. With such endless variety of options, Glamping is definitely a trend that can appeal to almost all types of travellers.
Three HKYHA hostels provide Bell Tent for booking: YHA Pak Sha O Youth Hostel, YHA Bradbury Hall Chek Keng Youth Hostel and YHA Ngong Ping Davis Youth Hostel. You are welcome to experience Glamping and enjoy a wonderful weekend with our hostel and exploring the nature!

Decorate Your Bell Tent
Our bell tent is 4-5 times larger than the ordinary tents which can be maximum for 6 persons (Max. for 4 persons during covid-19). With appearance of linen color, it looks like a mini circus tent in bohemian style. You are also welcome to bring your own decorations such as bunting flags and string lights to blend in your own style to the bell tent.
Enjoy Hassle-free Camping
We will prepare a set of pillows, blankets, beddings and sleeping pads for your stay. There will be also tent lighting, tea table or electric fan for free borrowing (might vary among hostels, you may check with our staff while check in if necessary). It allows you ease on camping in your vacation without big baggage. Besides, there is a self-service kitchen with induction stoves, refrigerators, and utensils for guests to use for free. You can enjoy the fun of cooking in the self-catering kitchen, or have barbecue under the sunset or starry night. In addition, these three hostels also provide shared bathroom for guests to use. Which means you can take a hot bath even you are in camping!
Exploring Nature during Vacation
These three hostels are located at the perfect locations for you to explore the nature of Hong Kong and experience different activities: Ngong Ping hostel is nearing Lantau Peak, which is a popular place for watching sunrise; Pak Sha O hostel is close to Hoi Ha Wan which is a good place for snorkeling or kayaking, and admire the colorful coral communities; also, you can visit the famous natural attractions such as Sharp Peak & Sheung Luk Stream by walking along in MacLehose Trail from our Chek Keng hostel.
Details
Terms & Conditions:
Limited tents. First-come first-served.
Guests must provide a valid membership card at check in, each Individual Member can bring a maximum of three Non-Members to stay in the hostel. i.e. 1 valid Individual Membership is required for staying in a 1-4 Person Bell Tent; while 2 valid Individual Memberships are required for staying in a 5-Person or 6-Person Bell Tent. If you are not a member of YHA or HI, you can apply the membership at hostel reception during check in.
Once the reservation is confirmed, no alteration, cancellation or transfer shall be entertained, and all payment is not refundable; and it bound by the Terms and Conditions.
Guests should be abide by the Hostel Rules and Guidelines of HKYHA.
Hong Kong Youth Hostels Association (HKYHA) has the sole and final decision in case of any disputes.