HASSLE-FREE CAMPING 2.0: BRAND-NEW GLAMPING EXPERIENCE!
Since the launch of "Hassle-free camping 2.0" at YHA Ngong Ping SG Davis Youth Hostel, we have been receiving overwhelming responses from young people, couples as well as families to meet us for a lovely countryside getaway. To spread the fun experience, we have decided to extend the campaign to Pak Sha O Youth Hostel.
What is Glamping?
Glamping, a word for a new kind of travel, is defined as glamorous camping. Originated mainly from the continents of Africa and Australia, it has developed rapidly in recent years and has been spread across the world. Types of luxury camping sites range from tents, wooden houses and treehouses to Mongolian GERs, camping cars and a lot more. With such endless variety of options, glamping is definitely a trend that can appeal to almost all types of travellers.
Pak Sha O Youth Hostel – the Bohemian-style bell tent
To let nature lovers get a taste of GLAMPING, we are launching a new bell tent at our Pak Sha O Youth Hostel in Sai Kung.  Currently in the latest European fashion, this bell tent is 4-5 times larger than ordinary tents, with a maximum capacity of 6 people.
Its plain linen colour makes it look like a mini circus tent in bohemian style. Campers may also bring along their own DIY decorations such as bunting flags and string lights to blend in some original style to the tent.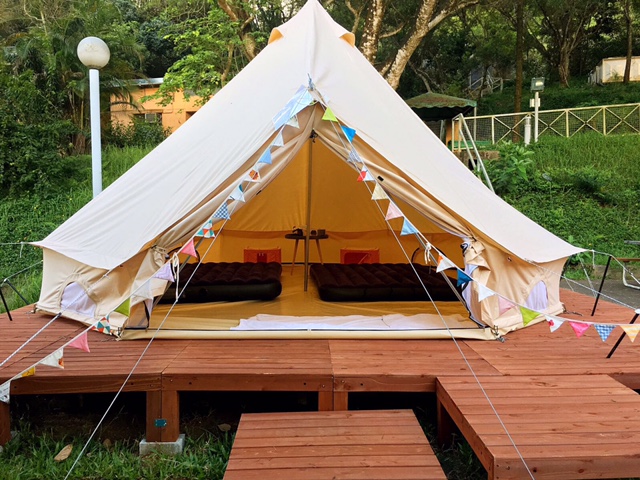 As the tent is made of canvas, one of its biggest advantages is the resistance to humid and sticky weather. This therefore makes it suitable for all four seasons.
Pillows & beddings are ready!
You can find our brand new Bell Tents equipped with basic set ups of pillows, blankets and beddings, sleeping pads, tent lighting, storage boxes, Bluetooth speaker, tea tables and decorations, suggesting a brand new hassle-free way for nature-lovers to stay away from home and enjoy a refreshing camping experience. Campers can also have fun preparing their own meals in the hostel kitchen (fridge provided) and take a nice hot shower in the hostel bathroom before falling into sweet dreams.
Make Your Own Breakfast!
What is better than starting your day with a great breakfast? Add HK$30 for a DIY breakfast! Waking up in the next morning, you can enjoy the time preparing DIY breakfast with your beloved ones, with our freshly food ingredients provided. Choose either a Hong Kong-style or western-style breakfast.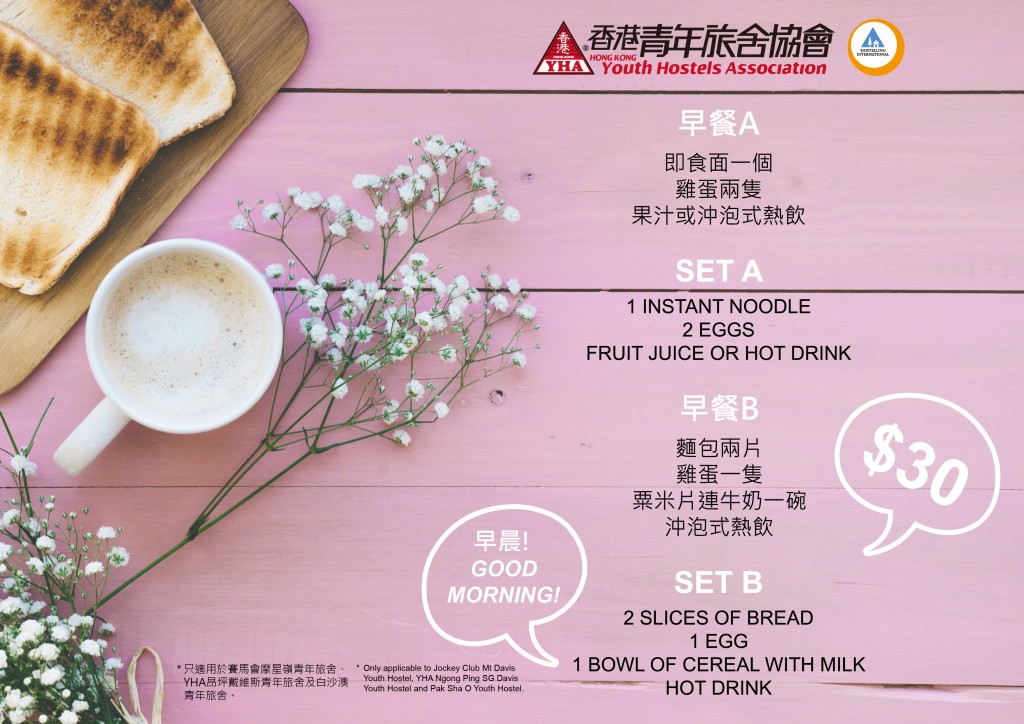 Fun add-on: Barbecue dinner under the starry sky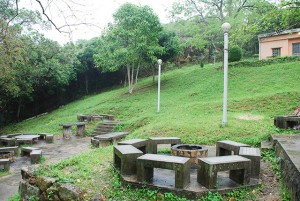 A delicious barbecue feast is always the perfect match with outdoor camping. Limited quota, first come first served.
Beverages, instant noodles and soft drinks are also available at our reception.
Admiring the natural treasures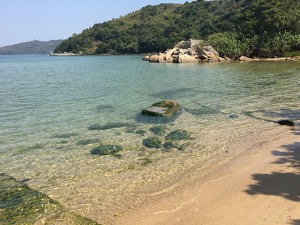 Pak Sha O Youth Hostel is the best pick for ecology explorers! You can snorkel to enjoy the colourful coral communities, at Hoi Ha Wan Marine Park, immerse yourself in the beauty of the mangrove, or admire the splendour of the sedimentary rocks on the beach. Hoi Ha Wan Marine Park is a protected area that contains 60 types of hard coral and 120 species of coral fish.
Hassle-free Camping 2.0: brand-new glamping experience!
Details:      Bell Tent ready and set-up with pillows, blankets and beddings, sleeping pads, tent lighting, storage boxes, Bluetooth speaker, tea tables and decorations; Free use of the hostel kitchen and bathroom
No. of persons: 1-6 persons/camp
Rate:  1-3 persons: total charge HK$540up
            Extra charge per additional person: HK$180up
(there should be at least 1 YHA member per group of 4)
Booking method:      
Email us at [email protected] with the completed reservation form. (Enquiry: 2788 1638)
Book it now to enjoy your first glamping experience!
Terms and Conditions:
Each booking should consist of a minimum of 1 person and a maximum of 6 persons.
Price is shown as member price and this offer is only applicable to YHA members. Each member can bring a maximum of three non-members to enjoy the offer. Guests can apply for YHA membership on site.
All bookings must be confirmed with payments settled at least 3 days prior to the check-in date.
No reservations for barbecue site. Limited quota, first come first served.
Limited tents. First come first served.
All tent users have to abide by the HKYHA hostel rules and guidelines.
Except for cases of adverse weather conditions stated in "Notes and Guidelines for Booking", no alteration shall be entertained.
HKYHA has the sole and final decision in case of disputes.