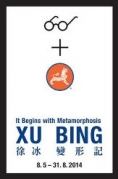 Free offer to YHA member for cultural event "It Begins with Metamorphosis: Xu Bing"
A special thanks to Asia Society Hong Kong Centre (ASHK) for reserving 30 quota exclusively to Hong Kong Youth Hostels Association members in this event. If you're interested, kindly send your name, membership number, email and contact number to rsvp@yha.org.hk for registration on or before 1 August.....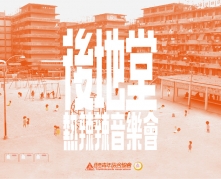 YHA Summer Music Festival
Speaking of local playgrounds back in 1970s-80s, what is it that pops up in your mind? "Merry go round? Wooden riding car? Two-storey slide? Despite being loaded with many Hongkonger's childhood memories, these recreation facilities seem to be disappearing off our playgrounds nowadays......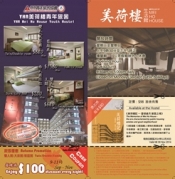 Autumn Promotion in YHA Mei Ho House Youth Hostel
From now on, local / global individual members placing booking via phone, email or walk-in for any standard or themed twin / double / family room during 1 September - 30 November 2014, can enjoy a $100 discount per night upon presenting the below coupon (both downloaded e-coupon and hard copy are accepted)...
Hong Kong Youth Hostels Association (HKYHA)
Founded in 1973 as a registered (non-government-funded) non-profit organization, Hong Kong Youth Hostels Association (HKYHA) is one of the 90 members of Hostelling International (HI) which provides members with choices of over 4,500 youth hostels and other travel benefits. HKYHA operates 7 youth hostels across Hong Kong, currently having individual membership of more than 26,000 people and group membership of over 500.
Mission:
To provide safe, simple, and affordable hostelling services to young people and travelers from all over the world. Our hostels serve as an education platform that allows travelers to broaden their horizons, to learn about different cultures, and to be in touch with nature and heritage conservation.
We Believe:
Travel does not only mean fun and entertainment, but also means eye on the world and soul cleansing.

Travel is not exclusive for the riches but everyone. Going to the countryside to embrace the nature is also a way of travel.

Youth hostels are established to provide safe and simple accommodation for travel lovers and young people of limited means.

Backpacking or self-guided tours is the popular mode of travel for the young generation. Youth hostel is thus an integral part of Hong Kong's tourism industry
Youth Hostels Around The World:
Welcome travelers of any gender, age*, nationality and religion.

Not a hotel. Different from typical business operation in terms of locations, facilities and services. Youth hostel promotes simple and eco-friendly tourism.

Equipped with at least one huge space (for example, self-catering kitchen, common room, self-service laundry ...) to let travelers from around the world to mingle and meet with others.

Travelers are not "customers" but those who are identified with the youth hostel's philosophy. Therefore, every traveler has the responsibility to keep the hostel clean and put back any facilities in their places after use.
​(* A letter of guarantee is required for any travelers bringing children under 5 years of age to the hostels to promise that the child will not disturb other travelers.)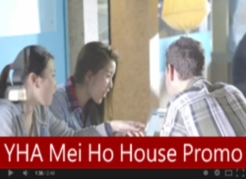 Hong Kong hostels are also available on hihostels.com